A tow hitch is provided with the vehicle.
To fasten the tow hitch:
1) Remove the tow ring from the tool bag.
2) Remove the flap fig. 46 on the bumper levering with a screwdriver in the point shown by the arrow.
3) Fasten the hitch A-fig.46 on the threaded pin.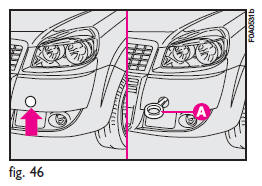 B-fig. 47 - Rear ring for towing another vehicle.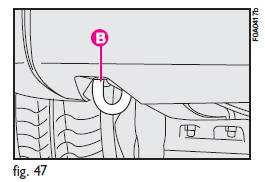 When towing the vehicle, you must comply with the specific traffic regulations regarding the tow hitch and how to tow on the road.

Before starting to tow, turn the ignition key to MAR and then to STOP.
Do not remove the key. If the key is removed, the steering lock engages automatically which prevents the wheels being turned.

While the vehicle is being towed with the engine off, remember that the brake pedal and steering will require more effort as you no longer have the benefit of the power brakes and power steering.
Do not use flexible cables to tow. Avoid jerking. Whilst towing, ensure that the coupling to the vehicle does not damage the surrounding components.
See also:
Power Steering
The standard power steering system will give you good vehicle response and increased ease of maneuverability in tight spaces. The system will provide mechanical steering capability if power assist ...
Fuel reserve
Turning the ignition key to MAR, the warning light on the instrument panel shall turn on but it should go off after a few seconds. The warning light turns on (on certain versions together with ...
Set clock
To adjust the time, press button (+) to increase minutes, button (–) to decrease minutes. Every press on the button increases or decreases by one unit. Keeping the corresponding button pressed o ...