A tow hitch is provided with the vehicle.
To fasten the tow hitch:
1) Remove the tow ring from the tool bag.
2) Remove the flap fig. 46 on the bumper levering with a screwdriver in the point shown by the arrow.
3) Fasten the hitch A-fig.46 on the threaded pin.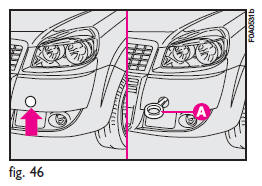 B-fig. 47 - Rear ring for towing another vehicle.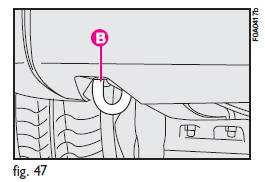 When towing the vehicle, you must comply with the specific traffic regulations regarding the tow hitch and how to tow on the road.

Before starting to tow, turn the ignition key to MAR and then to STOP.
Do not remove the key. If the key is removed, the steering lock engages automatically which prevents the wheels being turned.

While the vehicle is being towed with the engine off, remember that the brake pedal and steering will require more effort as you no longer have the benefit of the power brakes and power steering.
Do not use flexible cables to tow. Avoid jerking. Whilst towing, ensure that the coupling to the vehicle does not damage the surrounding components.
See also:
Locking Doors With A Key
You can insert the key with either side up. To lock the door, turn the key to the right. To unlock the door, turn the key to the left. Refer to "Body Lubrication" in "Maintaining Your Vehicle" for ...
Eobd - engine control system failure
In normal conditions, turning the ignition key to MAR, the warning light turns on, but it should go off when the engine has started. The initial turning on indicates that the warning light is ...
Radial-Ply Tires
WARNING! Combining radial-ply tires with other types of tires on your vehicle will cause your vehicle to handle poorly. The instability could cause an accident. Always use radial-ply tires in se ...