A fuse is an element for protecting the electrical system. A fuse will trip (i.e. it will blow) in the event of a failure or improper interventions in the electrical system.
If an electrical device is not working, check whether the respective fuse is blown. The conductor A-fig. 40 should be intact. If it is not, replace the fuse with another with the same amperage (same color).
B - Undamaged fuse.
C - Fuse with broken filament.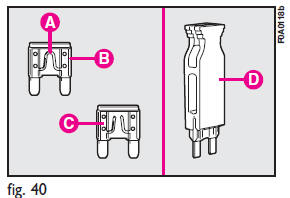 Remove the blown fuse with the tongs provided D, which can be found in the fuse box.

Never replace a broken fuse with anything other than a new fuse. Always use a fuse of the same color.

Never change a fuse with another amperage:
FIRE RISK.

Do not attempt to repair a blown MAXI-FUSE.
Go to a Fiat Dealership.

Before changing a fuse, check the ignition key has been removed and that all the other electric devices have been turned off/disabled.

If the fuse blows again, have the vehicle inspected at a Fiat Dealership.
The fuses in the Fiat Doblò are grouped in two fuse boxes, one located in the dashboard and the other in the engine compartment.
Press in the points shown in fig. 41 to remove the cover and reach the fuses.
Refer to the table on the following pages to identify the fuses.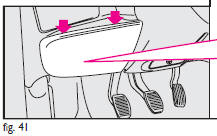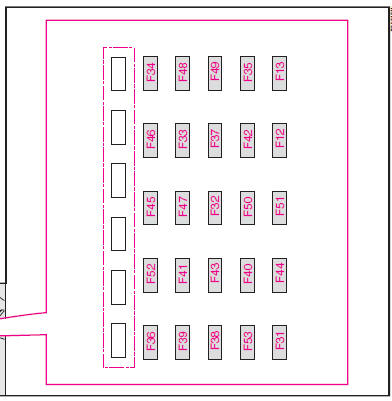 To reach the fuses in the engine compartment fuse box, release the tabs A-fig. 42 and remove the cover B.
Refer to the table on the following pages to identify the fuses.
NOTE: The glow plug fuse (60 A) is built into the pre-cabled section but it is positioned aside the engine compartment fuse box inside the cover shell so it can be friendly reached.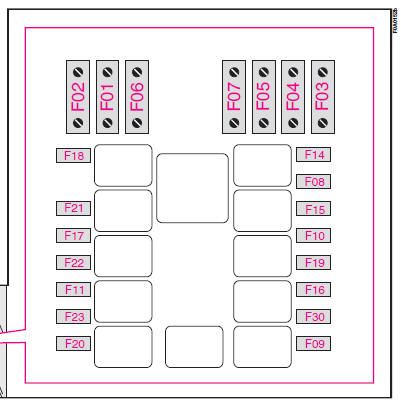 See also:
Types of bulbs
Various types of bulbs are fitted to your car: (A) All glass bulbs: these are pressed on. Pull to remove. (B) Bayonet type bulbs: press the bulb, and turn counterclockwise to remove this type of ...
Brake/Transmission Shift Interlock System
This vehicle is equipped with a Brake Transmission Shift Interlock System (BTSI) that holds the shift lever in the PARK position when the ignition switch is in the LOCK/ OFF position. To move the ...
Interior equipment
GLOVE BOX fig. 95 Operate handle A as shown by the arrow to open the compartment. MAGNETIC CARD POCKET - TICKET POCKET fig. 96 (where provided) Slots for keeping magnetic cards (telephone cards, ...