To guarantee full tank filling, carry out two refueling operations after the first click of the fuel delivery gun.
Avoid further topping up operations that could cause damages to the fuel system.
FUEL FILLER CAP fig. 150

Make sure that the left-hand sliding side door is completely closed before refueling. You could damage the door and the sliding lock system which comes into play when the fuel flap is open.

You cannot open the left-hand sliding side door while refueling when the flap is open.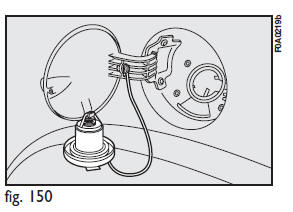 To open:
1) Turn the cap by approximately half a turn anticlockwise and remove it.
IMPORTANT
The hermetic closure may cause a slight pressure in the tank: a slight hissing when turning the cap is quite normal.
2) While you are filling up, place the cap on the fuel filler flap as illustrated in the figure.
To close:
The cap has a bayonet coupling. Insert the cap and turn it clockwise until it clicks once or more.
On certain versions the cap has a mechanical lock to be opened using the door key.

Do not put naked flames or lighted cigarettes near the fuel filler hole as there is a danger of fire. Do not bend too close to the hole either so as not to breathe in harmful vapours.
IMPORTANT
If required, replace the fuel cap with another genuine cap to avoid affecting the efficiency of the fuel vapour recovery system.
See also:
Checking the charge
The battery charge may be checked through the indicator (where fitted) set on the battery cover and acting according to the colour the indicator shows. If the battery is not fitted with electrol ...
Replacement Tires
The tires on your new vehicle provide a balance of many characteristics. They should be inspected regularly for wear and correct cold tire inflation pressure. The manufacturer strongly recommends ...
EVIC Displays
EVIC Display Manual Transmission 1 Ч Temperature Indicator 6 Ч Message Display 2 Ч Fuel Level Gauge 7 Ч Coolant Temperature Gauge 3 Ч Clock 8 Ч Digital Speedometer 4 Ч Odometer 9 Ч Ice ...