To replace a bulb, proceed as follows:
Versions equipped with rear brackets:
1) Working inside the vehicle: remove the plastic cover fig. 25 set on the speaker seat fitting the screwdriver under the plastic and making it slide in parallel with the slot to spring the 2 front catches, pull the plastic cover parallel with the supporting surface to spring the rear catch and then remove the upper plastic cover A-fig. 26 using the screwdriver provided, in order to make visible the fastening bolt B of the light unit.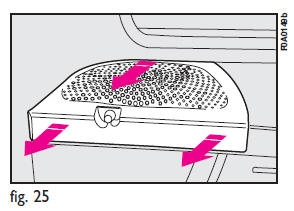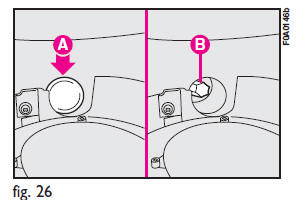 Versions not equipped with rear brackets:
1) Act from inside the vehicle to remove upper plastic cap C-fig. 27 by means of the screwdriver available, so that light cluster fastening bolt D is made visible.
2) Fit the wrench provided A-fig. 28 (used also to remove the wheel) to the fastening bolt of the light unit.
3) Loosen the bolts, then undo the light cluster fastening nuts by means of extension B-fig. 28 supplied with the unit.
As regards the 7-seater version is concerned, undo the light cluster fastening bolt by means of extension B-fig. 28 inserted onto the bolt through slotted hole C-fig. 28a.
4) Undo, after removing the fastening bolt, the cluster fastening screws (located outside), as illustrated in fig. 29.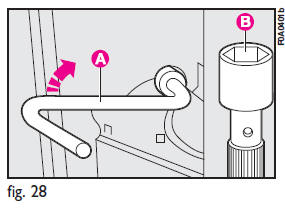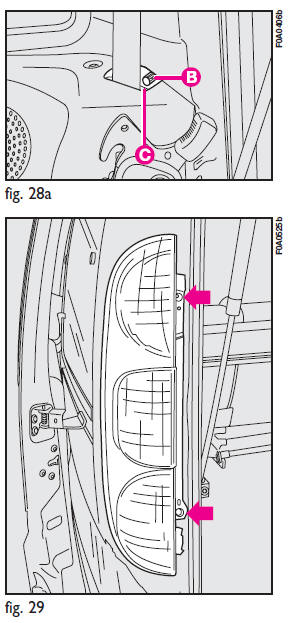 5) Take out the pressure-fit connector.
6) Undo the four fastening screws to remove the bulb holder and get access to the bulbs.
7) Remove the bulbs fig. 30 by pushing them gently and turning them counterclockwise (bayonet fitting)
A Ц brake light bulb

B Ц indicator light bulb

C Ц reversing light bulb

D Ц sidelight bulb

E Ц rear fog light bulb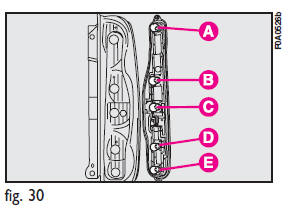 See also:
GROUP 0 and 0+
Babies up to 13 kg must be carried facing backwards on a cradle seat, which, supporting the head, does not induce stress on the neck in the event of sharp deceleration. The cradle is restrained by ...
Manual Transmission Ц If Equipped
Apply the parking brake, place the shift lever in NEUTRAL, and press the clutch pedal before starting the vehicle. This vehicle is equipped with a clutch interlocking ignition system. It will not ...
Periodic Safety Checks You Should Make OutsideThe Vehicle
Tires Examine tires for excessive tread wear and uneven wear patterns. Check for stones, nails, glass, or other objects lodged in the tread or sidewall. Inspect the tread for cuts and cracks. Ins ...