Supplemental Seat-Mounted Side Air Bags (SAB) provide enhanced protection to help protect an occupant during a side impact. The SAB are marked with an air bag label sewn into the outboard side of the front seats.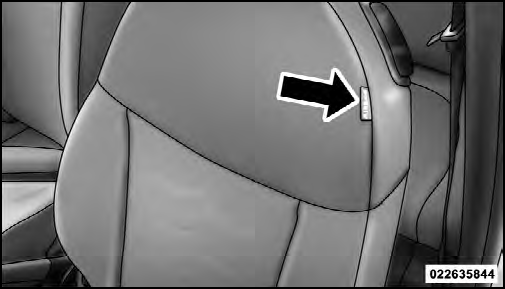 Supplemental Seat-Mounted Side Air Bag (SAB) Label
When the air bag deploys, it opens the seam between the front and side of the seat's trim cover. Each air bag deploys independently; a left side impact deploys the left air bag only and a right-side impact deploys the right air bag only.
See also:
Hill holder system
It is an integral part of the ESP system and facilitates starting on an uphill slope. It is automatically activated in the following conditions: ❒ Uphill: vehicle stationary on a road with g ...
Inflating procedure
Proceed as follows: ❒ Position the involved wheel with the inflation valve (A) set as shown in the figure, then pull up the handbrake; ❒ Screw the filler hose (B) to the cylinder ...
Fan speed adjustment
Proceed as follows: ❒ open completely central vents and side outlets; ❒ turn knob (A) to the blue sector; ❒ slider (B) at ; ❒ turn knob (C) to the required speed; ...