Adjusting the reclining seat back
Lift lever A-fig. 52.
Moving the seat backwards or forwards
Lift lever B-fig. 53 and push the seat backwards or forwards.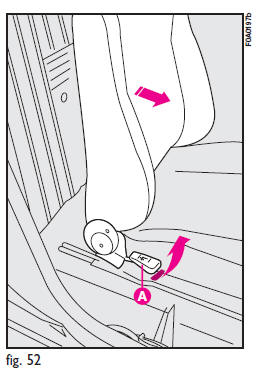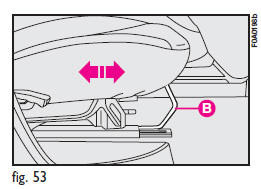 Once you have released the lever, check that the seat is firmly locked in the runners by trying to move it back and forth. Failure to lock the seat in place could result in the seat moving suddenly and dangerously.
See also:
Low engine oil pressure
Turning the key to MAR the warning light on the dial turns on, but it should go off as soon as the engine is started. If the warning light turns on when the car is travelling (on certain ver ...
Temperature Grades
The temperature grades are A (the highest), B, and C, representing the tire's resistance to the generation of heat and its ability to dissipate heat, when tested under controlled conditions on a s ...
MMT In Gasoline
MMT is a manganese containing metallic additive that is blended into some gasoline to increase the octane number. Gasoline blended with MMT offers no performance advantage beyond gasoline of the ...