STANDARD SCREEN fig.
The standard screen shows the following indications:
A - Headlight aiming position display (with dipped beam headlights on).
B - Clock.
C - Odometer (km or miles covered).
Note With ignition key removed, when opening one of the front doors the display comes on showing the clock and km/mi covered for a few seconds.
CLOCK fig. 42
To adjust the clock press button A to increase minutes and button B to decrease minutes. The clock will advance by one unit each time the button is pressed. Press the button and hold it down for a few seconds to rapidly advance the time automatically.
When the clock draws near to the correct time, release the button and complete the regulation manually.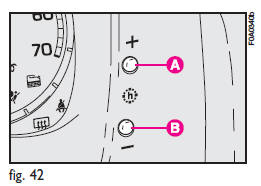 WARNING LIGHT TEST fig. 43
The following warning lights are tested:
Ц handbrake on/low brake fluid level;
Ц ABS and EBD system (where provided);
This tests are carried out automatically when turning the ignition key to MAR and during normal operation when a fault is found. At the end of the initial check, the display will show failures, if any (through one or more warning lights) by the wording LEd Err flashing for about 10 seconds.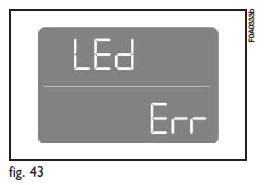 See also:
Right-hand direction indicator
The warning light on the dial turns on when the direction indicator control lever is moved upwards or, together with the left indicator, when the hazard warning light button is pressed. ...
Emergency start-up
If the Fiat CODE system fails to deactivate engine immobilising system the warning lights Yand U stay on and the engine cannot be started. To start the engine the emergency start-up can be performe ...
Transmission Limp Home Mode
Transmission function is monitored electronically for abnormal conditions. If a condition is detected that could result in transmission damage, Transmission Limp Home Mode is activated. In this mo ...