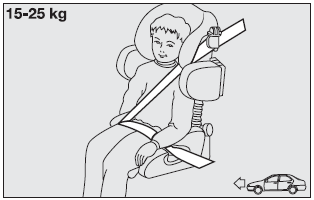 Starting from 15 kg to 25 kg in weight, children may be restrained directly by the car belts. The only function of the seat is to position the child correctly in relation to the belts, so that the diagonal part adheres to the chest and not to the neck and that the horizontal part clings to the child's pelvis and not the abdomen.
See also:
Customer Assistance For The Hearing Or SpeechImpaired (TDD/TTY)
To assist customers who have hearing difficulties, the manufacturer has installed special TDD (Telecommunication Devices for the Deaf) equipment at its customer center. Any hearing or speech impai ...
Traction Control System (TCS)
This system monitors the amount of wheel spin of each of the driven wheels. If wheel spin is detected, brake pressure is applied to the slipping wheel(s) and engine power is reduced to provide enh ...
Manual Operation
This system offers a full complement of manual override features. NOTE: Each of these features operates independently from each other. If any feature is controlled manually, temperature control wi ...