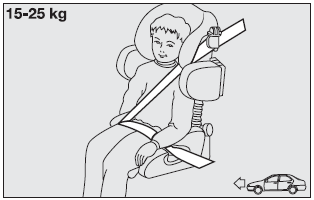 Starting from 15 kg to 25 kg in weight, children may be restrained directly by the car belts. The only function of the seat is to position the child correctly in relation to the belts, so that the diagonal part adheres to the chest and not to the neck and that the horizontal part clings to the child's pelvis and not the abdomen.
See also:
Vehicle storage
The following precautions should be taken if the vehicle will not be used for several months: – Park the vehicle in covered, dry and if possible well-ventilated premises. – Engage a gear. – Make ...
Suggestions For Obtaining Service For YourVehicle
Prepare For The Appointment If you're having warranty work done, be sure to have the right papers with you. Take your warranty folder. All work to be performed may not be covered by the warranty. ...
Bodywork
PROTECTION FROM ATMOSPHERIC AGENTS The main causes of rust are: – atmospheric pollution – salt and humidity in the atmosphere (coastal or very hot and humid areas) – environmental conditions that ...