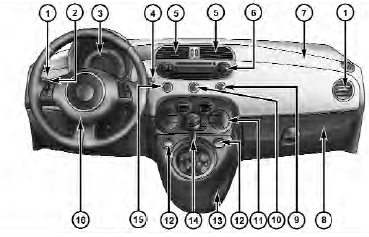 1 Ч Side Vent
2 Ч Multifunction Lever Ц Light Control
3 Ч Instrument Cluster And Warning Lights
4 Ч Windshield Wiper, Washer, Trip Computer
5 Ч Central Air Vents
6 Ч Storage Compartment/Radio
7 Ч Passenger Air Bag
8 Ч Glove Compartment
9 Ч Rear Defrost Button
10 Ч Hazard Button
11 Ч Climate Controls
12 Ч Power Windows Control
13 Ч Storage Compartment
14 Ч Shift Lever
15 Ч Sport Button
16 Ч Horn/Driver Airbag

See also:
Enhanced Accident Response System
In the event of an impact causing airbag deployment, if the communication network remains intact, and the power remains intact, depending on the nature of the event the ORC will determine whether ...
Fluid Capacities
...
Brake System
In the event power assist is lost for any reason (for example; repeated brake applications with the engine off), the brakes will still function. The effort required to brake the vehicle will be si ...