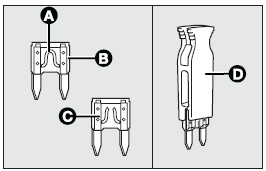 The fuse is a protective device for the electric system: it comes into action (i.e. it cuts off) mainly due to a fault or improper action on the system.
When a device does not work, check the efficiency of its fuse. The conductor element (A) must be intact. If not, replace the fuse with one of the same amp rating (same colour).
(B): undamaged fuse
(C): fuse with damaged filament.
To facilitate fuse replacement, use the pliers (D) located in the fuse box.
Never replace a fuse with metal wires or anything else.
WARNING
Never replace a fuse with another with a higher amp rating; DANGER OF FIRE.
WARNING
If a general fuse (MAXI-FUSE) cuts in, do not attempt any repair and contact a Fiat Dealership. Before replacing a fuse, make sure the ignition key has been removed and that all the other services are switched off and/or disengaged.
WARNING
If fuse blows again, contact a Fiat Dealership.
See also:
Jump-Starting Procedure
If your vehicle has a discharged battery, it can be jumpstarted using a set of jumper cables and a battery in another vehicle or by using a portable battery booster pack. Jump-starting can be dang ...
Older Children And Child Restraints
Children who are two years old or who have outgrown their rear-facing convertible child seat can ride forwardfacing in the vehicle. Forward-facing child seats and convertible child seats used in t ...
Transmission
CLUTCH Hydraulic, self-adjusting external control. GEARBOX Five forward gears and reverse with synchromesh for front gear engagement. Cyclical gear reduction and differential assembly incorporated ...