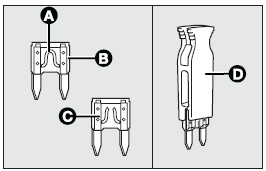 The fuse is a protective device for the electric system: it comes into action (i.e. it cuts off) mainly due to a fault or improper action on the system.
When a device does not work, check the efficiency of its fuse. The conductor element (A) must be intact. If not, replace the fuse with one of the same amp rating (same colour).
(B): undamaged fuse
(C): fuse with damaged filament.
To facilitate fuse replacement, use the pliers (D) located in the fuse box.
Never replace a fuse with metal wires or anything else.
WARNING
Never replace a fuse with another with a higher amp rating; DANGER OF FIRE.
WARNING
If a general fuse (MAXI-FUSE) cuts in, do not attempt any repair and contact a Fiat Dealership. Before replacing a fuse, make sure the ignition key has been removed and that all the other services are switched off and/or disengaged.
WARNING
If fuse blows again, contact a Fiat Dealership.
See also:
General instructions
Wheel changing and correct use of the jack and spare wheel call for some precautions as listed below. Do not use the jack for loads over the value indicated on the plate. The jack should only be ...
Base System
This is the TPMS warning indicator located in the instrument cluster. The TPMS uses wireless technology with wheel rim mounted electronic sensors to monitor tire pressure levels. Sensors, mounte ...
"Follow me home" device
This function allows the illumination of the space in front of the car. Activation With the ignition key at STOP or removed, pull the left-hand stalk towards the steering wheel and operate it wi ...