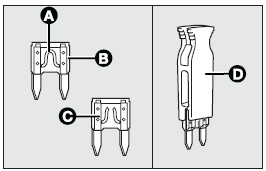 The fuse is a protective device for the electric system: it comes into action (i.e. it cuts off) mainly due to a fault or improper action on the system.
When a device does not work, check the efficiency of its fuse. The conductor element (A) must be intact. If not, replace the fuse with one of the same amp rating (same colour).
(B): undamaged fuse
(C): fuse with damaged filament.
To facilitate fuse replacement, use the pliers (D) located in the fuse box.
Never replace a fuse with metal wires or anything else.
WARNING
Never replace a fuse with another with a higher amp rating; DANGER OF FIRE.
WARNING
If a general fuse (MAXI-FUSE) cuts in, do not attempt any repair and contact a Fiat Dealership. Before replacing a fuse, make sure the ignition key has been removed and that all the other services are switched off and/or disengaged.
WARNING
If fuse blows again, contact a Fiat Dealership.
See also:
Refuelling
To ensure full tank refuelling, carry out two top-up operations once the delivery gun has turned off twice. Avoid further top-up operations which could cause faults in the fuel system. The car mu ...
Jump starting
If the battery is flat, it is possible to start the engine using an auxiliary battery with the same capacity or a little higher than the flat one. Proceed as follows: ❒ Connect positive ter ...
Sound system
If the "Sound System" has not been requested, the vehicle features an oddment compartment on the dashboard. Contact a Fiat Dealership if you want to install a sound system after purchasing your ...