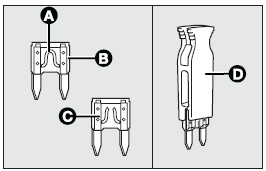 The fuse is a protective device for the electric system: it comes into action (i.e. it cuts off) mainly due to a fault or improper action on the system.
When a device does not work, check the efficiency of its fuse. The conductor element (A) must be intact. If not, replace the fuse with one of the same amp rating (same colour).
(B): undamaged fuse
(C): fuse with damaged filament.
To facilitate fuse replacement, use the pliers (D) located in the fuse box.
Never replace a fuse with metal wires or anything else.
WARNING
Never replace a fuse with another with a higher amp rating; DANGER OF FIRE.
WARNING
If a general fuse (MAXI-FUSE) cuts in, do not attempt any repair and contact a Fiat Dealership. Before replacing a fuse, make sure the ignition key has been removed and that all the other services are switched off and/or disengaged.
WARNING
If fuse blows again, contact a Fiat Dealership.
See also:
Checking the levels
1. Engine oil 2. Battery 3. Brake fluid 4. Windscreen washer fluid 5. Engine coolant 6. Power steering fluid. Do not smoke while working in the engine compartment: the presence of flammable ...
The signs to help you drive correctly
The signs you see on this page are very important. They highlight those parts of the handbook where, more than anywhere else, you should stop for a minute and read carefully. As you can see, each ...
How To Use This Manual
Consult the Table of Contents to determine which section contains the information you desire. Since the specification of your vehicle depends on the items of equipment ordered, certain descriptio ...