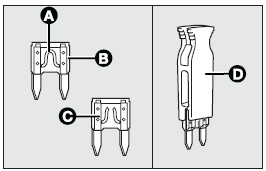 The fuse is a protective device for the electric system: it comes into action (i.e. it cuts off) mainly due to a fault or improper action on the system.
When a device does not work, check the efficiency of its fuse. The conductor element (A) must be intact. If not, replace the fuse with one of the same amp rating (same colour).
(B): undamaged fuse
(C): fuse with damaged filament.
To facilitate fuse replacement, use the pliers (D) located in the fuse box.
Never replace a fuse with metal wires or anything else.
WARNING
Never replace a fuse with another with a higher amp rating; DANGER OF FIRE.
WARNING
If a general fuse (MAXI-FUSE) cuts in, do not attempt any repair and contact a Fiat Dealership. Before replacing a fuse, make sure the ignition key has been removed and that all the other services are switched off and/or disengaged.
WARNING
If fuse blows again, contact a Fiat Dealership.
See also:
Bonnet
To open the bonnet This should only be done when the vehicle is stationary. Before opening the bonnet, check the windscreen wiper arms are not lifted from the windscreen. 1) Pull the yellow leve ...
Front Seats Forward/Rearward Adjustment
The adjusting bar is located at the front of the seats, near the floor. Adjusting Bar While sitting in the seat, lift up on the bar and move the seat forward or rearward. Release the bar once t ...
Parking Brake
Before leaving the vehicle, make sure that the parking brake is fully applied. Also, be certain to leave manual transmission in REVERSE or first gear. The parking brake lever is located in the cent ...