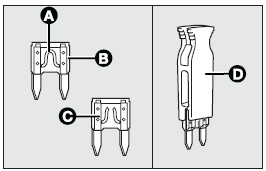 The fuse is a protective device for the electric system: it comes into action (i.e. it cuts off) mainly due to a fault or improper action on the system.
When a device does not work, check the efficiency of its fuse. The conductor element (A) must be intact. If not, replace the fuse with one of the same amp rating (same colour).
(B): undamaged fuse
(C): fuse with damaged filament.
To facilitate fuse replacement, use the pliers (D) located in the fuse box.
Never replace a fuse with metal wires or anything else.
WARNING
Never replace a fuse with another with a higher amp rating; DANGER OF FIRE.
WARNING
If a general fuse (MAXI-FUSE) cuts in, do not attempt any repair and contact a Fiat Dealership. Before replacing a fuse, make sure the ignition key has been removed and that all the other services are switched off and/or disengaged.
WARNING
If fuse blows again, contact a Fiat Dealership.
See also:
Scheduled servicing
Correct maintenance is essential for ensuring long car life under the best conditions. This is why Fiat has programmed a series of checks and maintenance operations every 20,000 km. It is however i ...
Height adjustable steering wheel
In certain versions, the steering wheel can be adjusted vertically: 1) Move lever A-fig. 63 to position 1. 2) Adjust the steering wheel. 3) Take the lever back to position 2 to fasten the steering ...
Emergency start-up
If the Fiat CODE system fails to deactivate engine immobilising system the warning lights Yand U stay on and the engine cannot be started. To start the engine the emergency start-up can be performe ...