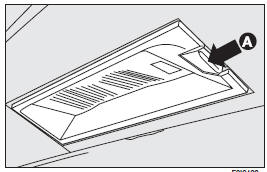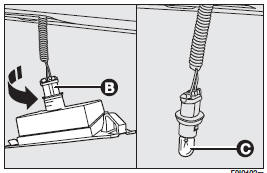 To change the bulb, proceed as follows:
❒ release the tab (A) and remove the cluster;
❒ turn the bulb holder (B) anticlockwise and remove the bulb (C).
See also:
The signs to help you drive correctly
The signs you see on this page are very important. They highlight those parts of the handbook where, more than anywhere else, you should stop for a minute and read carefully. As you can see, each ...
Additional checks
Every 1,000 km or before long journeys, check and top up if required: ❒ engine coolant fluid level; ❒ brake fluid level; ❒ windscreen washer fluid level; ❒ tyre pressur ...
Direction indicators
Push the lever to stable position: ❒ up (position 1): engage the right-hand direction indicator; ❒ down (position 2): engage the left-hand direction indicator. Warning light or w ...