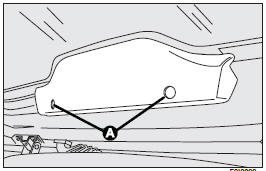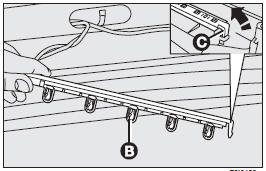 To change the bulb, proceed as follows:
❒ open the tailgate and loosen screws (A);
❒ release the clip (B) and open the bulb holder, the remove the bulb (C) to be replaced (clipped in).
See also:
General
A fuse is an element for protecting the electrical system. A fuse will trip (i.e. it will blow) in the event of a failure or improper interventions in the electrical system. If an electrical devi ...
Emergency start-up
If the Fiat code cannot deactivate the engine immobilizing system, the warning lights stay on and the engine will not start. Follow the emergency start-up procedure to start the engine. Read the ...
Changing the battery
If required, replace the battery with a genuine spare part having the same specifications. If a battery with different specifications is fitted, the service intervals given in the "Service schedule ...