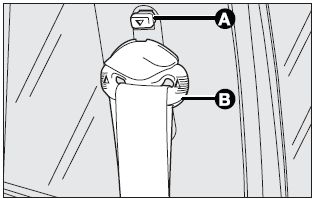 Always adjust the height of the seat belt to fit the person wearing it. This precaution could greatly reduce the risk of injury in case of collision.
Correct adjustment is obtained when the belt passes half way between the end of the shoulder and the neck.
Four different adjustments in height are provided.
To adjust, press button (A) and lower or raise the grip (B).
WARNING
Make the height adjustment when the car is stationary.
WARNING
After adjustment, always check that the slider is anchored in one of the positions provided. To do this, with the button (A) released, exert a further pressure to allow the anchor device to catch if release did not take place at one of the preset positions.
See also:
Seat Height Adjustment
The driver's seat height can be raised or lowered by using a lever, located on the outboard side of the seat. Pump the lever upward to raise the seat height, or pump the lever downward to lower t ...
Suggestions For Obtaining Service For YourVehicle
Prepare For The Appointment If you're having warranty work done, be sure to have the right papers with you. Take your warranty folder. All work to be performed may not be covered by the warranty. ...