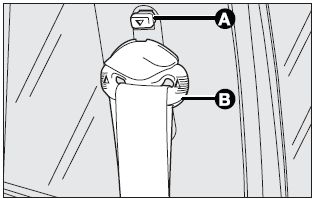 Always adjust the height of the seat belt to fit the person wearing it. This precaution could greatly reduce the risk of injury in case of collision.
Correct adjustment is obtained when the belt passes half way between the end of the shoulder and the neck.
Four different adjustments in height are provided.
To adjust, press button (A) and lower or raise the grip (B).
WARNING
Make the height adjustment when the car is stationary.
WARNING
After adjustment, always check that the slider is anchored in one of the positions provided. To do this, with the button (A) released, exert a further pressure to allow the anchor device to catch if release did not take place at one of the preset positions.
See also:
General instructions for using the seat belts
The driver is responsible for respecting and enforcing the local rules and laws regarding the use of seat belts. Always fasten the seat belts before starting. For maximum safety, keep the back of ...
Electronic control units
When the vehicle is being used normally, special measures are not necessary. The following instructions must be followed very carefully, however, if you work on the electrical system or in cases wh ...
Tire Pressure
Proper tire inflation pressure is essential to the safe and satisfactory operation of your vehicle. Three primary areas are affected by improper tire pressure: WARNING! • Improperly inflated tire ...