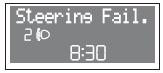 Turning the ignition key to MAR the warning light on the dial turns on, but it should go off after few seconds.
If the warning light stays on (on certain versions together with the message on the display), you will not have steering assistance and the effort on the steering wheel will be increased, steering is however possible. Contact Fiat Dealership.
See also:
Pinch Protect Override
If a known obstruction (ice, debris, etc.) prevents the sunroof from closing, press the switch forward and hold for approximately one second after the reversal occurs. This allows the sunroof to ...
Wind Buffeting
Wind buffeting can be described as the perception of pressure on the ears or a helicopter-type sound in the ears. Your vehicle may exhibit wind buffeting with the windows down, or the sunroof (if ...
How to keep the seatbelts in proper working order at all times
1) When wearing the seat belts, always ensure they are not twisted and are free to wind in and out. 2) Following a serious accident, replace the belt being worn at that time, even if it does not ...