If a malfunction occurs and the shift lever cannot be moved out of the PARK position, you can use the following procedure to temporarily move the shift lever: 1. Firmly set the parking brake.
2. Remove the shift lever override access cover located on the right side of the shift lever housing.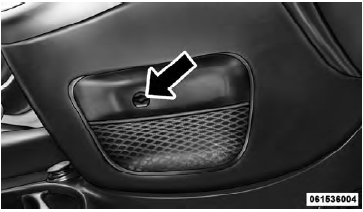 Shift Lever Override Access Cover
3. Turn the ignition switch to the ON/RUN position without starting the engine.
4. Press and maintain firm pressure on the brake pedal.
5. Using a small screwdriver or similar tool, push and hold the override release lever in.
6. Move the shift lever into the NEUTRAL position.
7. The vehicle may then be started in NEUTRAL.
8. Reinstall the shift lever override access cover.
See also:
EVIC Displays
EVIC Display Manual Transmission 1 Ч Temperature Indicator 6 Ч Message Display 2 Ч Fuel Level Gauge 7 Ч Coolant Temperature Gauge 3 Ч Clock 8 Ч Digital Speedometer 4 Ч Odometer 9 Ч Ice ...
Air Conditioning (A/C)
The Air Conditioning (A/C) button allows the operator to manually activate or deactivate the air conditioning system. When in A/C mode with the ATC set to a cool temperature, dehumidified air flow ...
Power windows
CONTROLS Power windows are controlled by two switches located on the dashboard when the key is at MAR: (A): to open/close the front left-hand window; (B): to open/close the front right-hand win ...