If a malfunction occurs and the shift lever cannot be moved out of the PARK position, you can use the following procedure to temporarily move the shift lever: 1. Firmly set the parking brake.
2. Remove the shift lever override access cover located on the right side of the shift lever housing.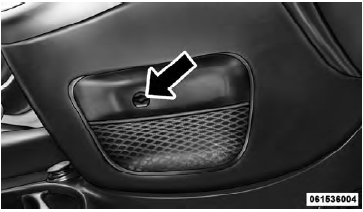 Shift Lever Override Access Cover
3. Turn the ignition switch to the ON/RUN position without starting the engine.
4. Press and maintain firm pressure on the brake pedal.
5. Using a small screwdriver or similar tool, push and hold the override release lever in.
6. Move the shift lever into the NEUTRAL position.
7. The vehicle may then be started in NEUTRAL.
8. Reinstall the shift lever override access cover.
See also:
Passenger's front air bag (where provided)
It consists of an instant-inflating cushion contained in a special recess in the dashboard; its volume is bigger than the driver's one. The driver's and passenger's front Air bags have been desig ...
Flowing/Rising Water
WARNING! Do not drive on or across a road or path where water is flowing and/or rising (as in storm run-off). Flowing water can wear away the road or path's surface and cause your vehicle to sin ...
Stopping the engine
Turn the ignition to STOP while the engine is idling. IMPORTANT After a taxing drive, you should allow the engine to "catch its breath" before turning it off by letting it idle to allow the temper ...