If a malfunction occurs and the shift lever cannot be moved out of the PARK position, you can use the following procedure to temporarily move the shift lever: 1. Firmly set the parking brake.
2. Remove the shift lever override access cover located on the right side of the shift lever housing.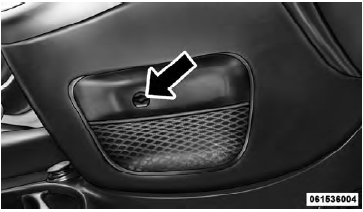 Shift Lever Override Access Cover
3. Turn the ignition switch to the ON/RUN position without starting the engine.
4. Press and maintain firm pressure on the brake pedal.
5. Using a small screwdriver or similar tool, push and hold the override release lever in.
6. Move the shift lever into the NEUTRAL position.
7. The vehicle may then be started in NEUTRAL.
8. Reinstall the shift lever override access cover.
See also:
Rear window wash/wipe function
This device can only work when the ignition key is at MAR. To switch the rear window wiper on, turn the knurled ring from O to . To wash the window push the stalk towards the dashboard. On cert ...
Headlamps
1. Remove the plastic cap from the back of the headlamp housing. 2. Rotate the bulb counter-clockwise. 3. Remove the bulb and replace as needed. 4. Install the bulb and rotate clockwise to lock in ...
Performance
Top admitted speed after initial car use in km/h. ...