If a malfunction occurs and the shift lever cannot be moved out of the PARK position, you can use the following procedure to temporarily move the shift lever: 1. Firmly set the parking brake.
2. Remove the shift lever override access cover located on the right side of the shift lever housing.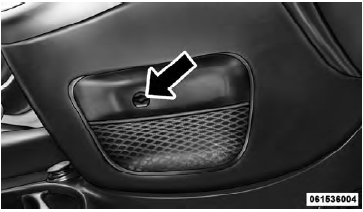 Shift Lever Override Access Cover
3. Turn the ignition switch to the ON/RUN position without starting the engine.
4. Press and maintain firm pressure on the brake pedal.
5. Using a small screwdriver or similar tool, push and hold the override release lever in.
6. Move the shift lever into the NEUTRAL position.
7. The vehicle may then be started in NEUTRAL.
8. Reinstall the shift lever override access cover.
See also:
Snow chains
Use of snow chains should be in compliance with local regulations. Snow chains should only be applied to the driving wheels (front wheels). Refer to the following table for information on the wheel ...
Driving style
Starting Do not warm the engine when the vehicle is stationary or at high or low revs: in this way the engine will warm up gradually increasing consumption and emissions. You should drive off slo ...
Additional checks
Every 1,000 km or before long trips, check and top up as necessary: engine coolant level, brake fluid level, windscreen washer liquid level, tyre pressure and conditions. Every 3,000 km check and ...