If a malfunction occurs and the shift lever cannot be moved out of the PARK position, you can use the following procedure to temporarily move the shift lever: 1. Firmly set the parking brake.
2. Remove the shift lever override access cover located on the right side of the shift lever housing.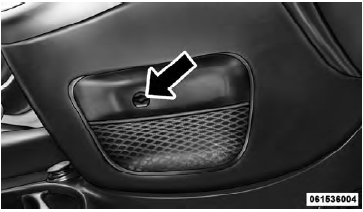 Shift Lever Override Access Cover
3. Turn the ignition switch to the ON/RUN position without starting the engine.
4. Press and maintain firm pressure on the brake pedal.
5. Using a small screwdriver or similar tool, push and hold the override release lever in.
6. Move the shift lever into the NEUTRAL position.
7. The vehicle may then be started in NEUTRAL.
8. Reinstall the shift lever override access cover.
See also:
Electronic Brake Control System
Your vehicle is equipped with a advanced electronic brake control system that includes the Anti-Lock Brake System (ABS), Brake Assist System (BAS), Traction Control System (TCS), Hill Start Assis ...
How to warm up the engine after it has just started (petrol and diesel versions)
Proceed as follows: ❒ Drive off slowly, letting the engine turn at medium revs. Do not accelerate abruptly; ❒ Do not drive at full performance for the initial kilometres. Wait until ...
Dipped beams
To change the halogen bulb, proceed as follows: 1) Remove the protection cover Bfig. 18 turning it counterclockwise; 2) Release clip A-fig. 20, remove connector B and remove the bulb C. ...