If a malfunction occurs and the shift lever cannot be moved out of the PARK position, you can use the following procedure to temporarily move the shift lever: 1. Firmly set the parking brake.
2. Remove the shift lever override access cover located on the right side of the shift lever housing.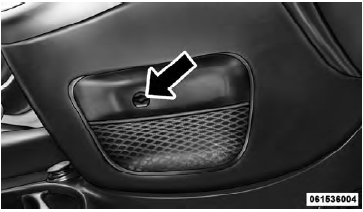 Shift Lever Override Access Cover
3. Turn the ignition switch to the ON/RUN position without starting the engine.
4. Press and maintain firm pressure on the brake pedal.
5. Using a small screwdriver or similar tool, push and hold the override release lever in.
6. Move the shift lever into the NEUTRAL position.
7. The vehicle may then be started in NEUTRAL.
8. Reinstall the shift lever override access cover.
See also:
Instrument Panel Features
1 Ч Side Vent 2 Ч Multifunction Lever Ц Light Control 3 Ч Instrument Cluster And Warning Lights 4 Ч Windshield Wiper, Washer, Trip Computer 5 Ч Central Air Vents 6 Ч Storage Compartment/Ra ...
Speedlock (Door Lock) (where provided)
This function: ❒ when activated (ON) locks automatically the doors when the car speed exceeds 20 km/h; ❒ when deactivated (OFF) doesnТt perform automatic door lock when the car speed ...
Door lockremote control
The remote control is built into the ignition key. Press button A-fig. 4 to lock and unlock the doors. Press button A to operate the system. LED B (where required) will flash while the transmitter ...