A power door lock switch is incorporated into the door handle. Push or pull the handle to lock or unlock the doors and liftgate. If the door handle is pushed a red lock indicator will show on the door handle (indicating locked) when the door is closed, the door will lock.

NOTE: To prevent the key from being locked in the vehicle, the power door lock switch will not operate when the key is in the ignition and either front door is open. A chime will sound as a reminder to remove the key.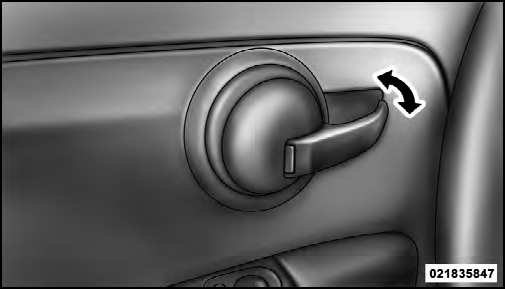 Driver Power Door Lock Handle
See also:
EBD failure
(red) (amber) The turning on at the same time of warning lights with the engine running indicates an EBD system failure or that the system is unavailable; in this case heavy braking may cause ...
Suggestions For Obtaining Service For YourVehicle
Prepare For The Appointment If you're having warranty work done, be sure to have the right papers with you. Take your warranty folder. All work to be performed may not be covered by the warranty. ...
Rubber tubing
Follow the "Service Schedule" to the letter as concerns braking and fuel line rubber tubing. Ozone, high temperatures and long absence of fluid in the system can in fact cause the hardening and cr ...