The door locks can be manually locked or unlocked from inside the vehicle by using the door handle. If the door handle is pushed a red lock indicator will show on the door handle (indicating locked) when the door is closed, the door will lock.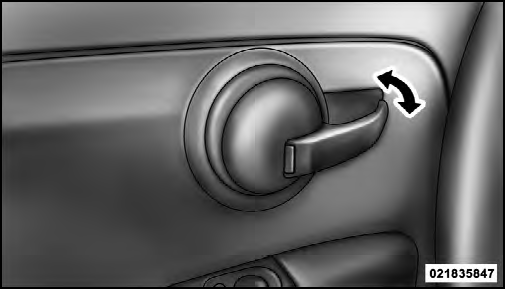 Door Lock Handle

WARNING!
Х Do not leave children or animals inside parked vehicles in hot weather. Interior heat build-up may cause serious injury or death.
Х For personal security and safety in the event of an accident, lock the vehicle doors as you drive as well as when you park and leave the vehicle.
Х Before exiting a vehicle, always apply the parking brake, shift the transmission into PARK, and remove the key fob from the ignition. When leaving the vehicle, always lock your vehicle.
Х Never leave children alone in a vehicle, or with access to an unlocked vehicle.
Х Allowing children to be in a vehicle unattended is dangerous for a number of reasons. A child or others could be seriously or fatally injured. Children should be warned not to touch the parking brake, brake pedal or the shift lever.
Х Do not leave the key fob in or near the vehicle, and do not leave the ignition in the ACC or ON/RUN position. A child could operate power windows, other controls, or move the vehicle.

CAUTION!
An unlocked vehicle is an invitation to thieves.
Always remove the key from the ignition and lock all of the doors when leaving the vehicle unattended.
See also:
Electric windows
According to versions, power window controls can be set on the dashboard (in central position) fig. 109, or on driver and passenger door panels fig. 109a. They only work with ignition key at MAR. ...
ABS system
The car is fitted with an ABS braking system, which prevents the wheels from locking when braking, makes the most of road grip and gives the best control when emergency braking under difficult roa ...
General information
The front and/or side airbags can be triggered if the vehicle is subjected to strong knocks or impacts underneath, e.g. violent crashes into steps, kerbs or fixed projections from the ground, fall ...