Seat belt without reel mechanism
To fasten the seat belt: insert the tongue (A) into the buckle (B), until you hear it click.
To unfasten the seat belt: press button (C).
To adjust the belt: slide the webbing in adjuster (D). Pull length (E) to tighten the belt and length (F) to loosen it.
IMPORTANT The belt is adjusted properly when it fits closely across the hips.
Seat belt with three anchor points and reel mechanism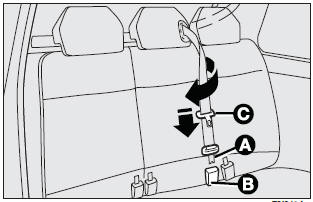 The seat belt has two webbings and a double buckle.
To fasten the seat belt: pull the webbing from your reel gently. Slide the webbing carefully through the retainer by the side of the head restraint without twisting it. Then fasten tongue (A) in buckle (B) (grey with a black button) making the two yellow spot references coincide (one on the tongue and one on the buckle).
Slide out more webbing and insert tongue (C) in buckle (D) (grey with red button).
To unfasten the seat belt: press button (E) and lead the webbing to buckle (B). Then press button (F) (black).
See also:
QUICK WINDSCREEN AND FRONT SIDE WINDOW DEMISTING/DEFROSTING (MAX-DEF function)
Proceed as follows: ❒ turn knob (A) to ; ❒ turn knob (C) to 4 ; ❒ turn knob (D) to ❒ slider (B) at . After demisting/defrosting, operate the controls to restore the r ...
Automatic Dimming Mirror — If Equipped
This mirror automatically adjusts for headlight glare from vehicles behind you. You can turn the feature on or off by pressing the button at the base of the mirror.Alight to the left of the button ...
Inflating procedure
Proceed as follows: ❒ Position the involved wheel with the inflation valve (A) set as shown in the figure, then pull up the handbrake; ❒ Screw the filler hose (B) to the cylinder ...