Seat belt without reel mechanism
To fasten the seat belt: insert the tongue (A) into the buckle (B), until you hear it click.
To unfasten the seat belt: press button (C).
To adjust the belt: slide the webbing in adjuster (D). Pull length (E) to tighten the belt and length (F) to loosen it.
IMPORTANT The belt is adjusted properly when it fits closely across the hips.
Seat belt with three anchor points and reel mechanism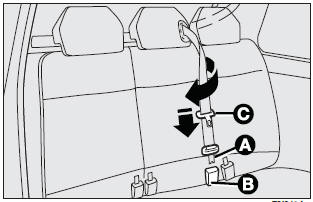 The seat belt has two webbings and a double buckle.
To fasten the seat belt: pull the webbing from your reel gently. Slide the webbing carefully through the retainer by the side of the head restraint without twisting it. Then fasten tongue (A) in buckle (B) (grey with a black button) making the two yellow spot references coincide (one on the tongue and one on the buckle).
Slide out more webbing and insert tongue (C) in buckle (D) (grey with red button).
To unfasten the seat belt: press button (E) and lead the webbing to buckle (B). Then press button (F) (black).
See also:
To Close
With the sunroof in the full open position, pull the power sunroof button and hold it for approximately one second, the sunroof will return to the vented position. Pull the switch a second time an ...
Customer Assistance For The Hearing Or SpeechImpaired (TDD/TTY)
To assist customers who have hearing difficulties, the manufacturer has installed special TDD (Telecommunication Devices for the Deaf) equipment at its customer center. Any hearing or speech impai ...
Electronic Vehicle Information Center (EVIC)Setup Menu
The menu comprises a series of functions arranged in a cycle. Press the + and – buttons to access the different options and settings (setup). The setup menu can be activated by pressing the MENU ES ...