Seat belt without reel mechanism
To fasten the seat belt: insert the tongue (A) into the buckle (B), until you hear it click.
To unfasten the seat belt: press button (C).
To adjust the belt: slide the webbing in adjuster (D). Pull length (E) to tighten the belt and length (F) to loosen it.
IMPORTANT The belt is adjusted properly when it fits closely across the hips.
Seat belt with three anchor points and reel mechanism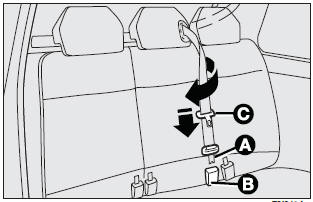 The seat belt has two webbings and a double buckle.
To fasten the seat belt: pull the webbing from your reel gently. Slide the webbing carefully through the retainer by the side of the head restraint without twisting it. Then fasten tongue (A) in buckle (B) (grey with a black button) making the two yellow spot references coincide (one on the tongue and one on the buckle).
Slide out more webbing and insert tongue (C) in buckle (D) (grey with red button).
To unfasten the seat belt: press button (E) and lead the webbing to buckle (B). Then press button (F) (black).
See also:
Climatic comfort
Air distribution Knob D-fig. 72 directs the air inside the passenger compartment according to five levels: conveys the air to the central and side vents directly to the body (face/chest); conve ...
Convertible Top Care Ц If Equipped
NOTE: Lubricate the top rails with Berulub FR 43 every 2000 cycles or if scratching noises due to dust are present. CAUTION! Failure to follow these cautions may cause interior water damage, sta ...
Folding front passenger seat
Folding the seat back Lift lever A-fig. 54 to fold the seat back and obtain a tabletop. Tipping the seat To tip the seat and make more space in the passenger compartment proceed as follows: Ц ti ...