Seat belt without reel mechanism
To fasten the seat belt: insert the tongue (A) into the buckle (B), until you hear it click.
To unfasten the seat belt: press button (C).
To adjust the belt: slide the webbing in adjuster (D). Pull length (E) to tighten the belt and length (F) to loosen it.
IMPORTANT The belt is adjusted properly when it fits closely across the hips.
Seat belt with three anchor points and reel mechanism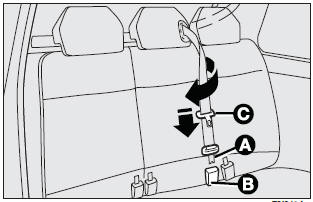 The seat belt has two webbings and a double buckle.
To fasten the seat belt: pull the webbing from your reel gently. Slide the webbing carefully through the retainer by the side of the head restraint without twisting it. Then fasten tongue (A) in buckle (B) (grey with a black button) making the two yellow spot references coincide (one on the tongue and one on the buckle).
Slide out more webbing and insert tongue (C) in buckle (D) (grey with red button).
To unfasten the seat belt: press button (E) and lead the webbing to buckle (B). Then press button (F) (black).
See also:
Eobd - engine control system failure
In normal conditions, turning the ignition key to MAR, the warning light turns on, but it should go off when the engine has started. The initial turning on indicates that the warning light is ...
If the battery is flat
First of all, read the "Vehicle maintenance" section for the steps to be taken to avoid the battery running down and to ensure it has a long life. IF THE BATTERY IS FLAT Charging should be slow at ...
Vehicle Identification Number
The Vehicle Identification Number (VIN) is found on the left front corner of the instrument panel, visible through the windshield. This number also appears engraved on the right front door sill un ...