Seat belt without reel mechanism
To fasten the seat belt: insert the tongue (A) into the buckle (B), until you hear it click.
To unfasten the seat belt: press button (C).
To adjust the belt: slide the webbing in adjuster (D). Pull length (E) to tighten the belt and length (F) to loosen it.
IMPORTANT The belt is adjusted properly when it fits closely across the hips.
Seat belt with three anchor points and reel mechanism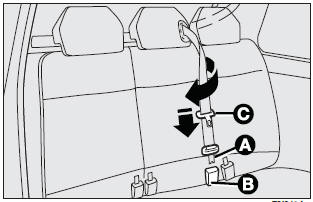 The seat belt has two webbings and a double buckle.
To fasten the seat belt: pull the webbing from your reel gently. Slide the webbing carefully through the retainer by the side of the head restraint without twisting it. Then fasten tongue (A) in buckle (B) (grey with a black button) making the two yellow spot references coincide (one on the tongue and one on the buckle).
Slide out more webbing and insert tongue (C) in buckle (D) (grey with red button).
To unfasten the seat belt: press button (E) and lead the webbing to buckle (B). Then press button (F) (black).
See also:
ABS intervention
When braking a slight pulsing accompanied by noise may be felt on the brake pedal due to the action of the ABS system. WARNING The ABS exploits the tyre-road grip at the best, but it cannot improv ...
Third brake lights
To replace a bulb, open either the left-hand door or the tailgate and loosen the screws A-fig. 31. Remove the lens from its housing from the outside. Remove the clipped-on bulb B-fig. 32 and repla ...
Materials Added To Fuel
All gasoline sold in the United States is required to contain effective detergent additives. Use of additional detergents or other additives is not needed under normal conditions and would result ...