Seat belt without reel mechanism
To fasten the seat belt: insert the tongue (A) into the buckle (B), until you hear it click.
To unfasten the seat belt: press button (C).
To adjust the belt: slide the webbing in adjuster (D). Pull length (E) to tighten the belt and length (F) to loosen it.
IMPORTANT The belt is adjusted properly when it fits closely across the hips.
Seat belt with three anchor points and reel mechanism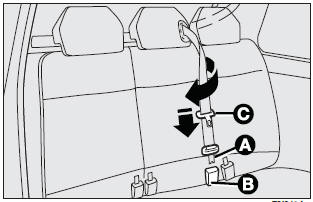 The seat belt has two webbings and a double buckle.
To fasten the seat belt: pull the webbing from your reel gently. Slide the webbing carefully through the retainer by the side of the head restraint without twisting it. Then fasten tongue (A) in buckle (B) (grey with a black button) making the two yellow spot references coincide (one on the tongue and one on the buckle).
Slide out more webbing and insert tongue (C) in buckle (D) (grey with red button).
To unfasten the seat belt: press button (E) and lead the webbing to buckle (B). Then press button (F) (black).
See also:
Power Steering
The standard power steering system will give you good vehicle response and increased ease of maneuverability in tight spaces. The system will provide mechanical steering capability if power assist ...
Additional braking light (third stop)
To change the bulb, proceed as follows: ❒ open the tailgate and loosen screws (A); ❒ release the clip (B) and open the bulb holder, the remove the bulb (C) to be replaced (clippe ...
Useful advice for lengthening the life of your battery
To avoid draining your battery and lengthen its life, observe the following indications: Ц when you park the vehicle, ensure the doors, tailgate and bonnet are closed properly; Ц the ceiling light ...