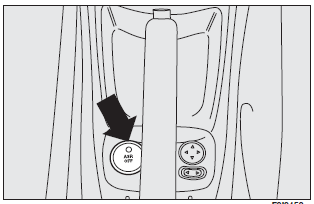 The ASR function switches on automatically each time the engine is started.
When travelling the device can be switched off and on again pressing switch ASR OFF on the centre console.
Switching on is indicated by the relevant message on the reconfigurable multifunction display (where provided) (see section "Warning lights and messages").
When the device is switched off this is shown by the lighting up of the led on the ASR OFF button and by the message on the reconfigurable multifunction display (see section "Warning lights and messages").
If the ASR function is switched off when travelling, it will turn on again automatically the next time the engine is started
When travelling on snow with snow chains, it may be helpful to turn the ASR device off: in fact, in these conditions, slipping of the driving wheels when moving off makes it possible to obtain better drive.
WARNING
The performance of the system, in terms of active safety should not induce the driver to take pointless and unnecessary risks. The style of driving must in any case always be adapted to the conditions of the road surface, visibility an traffic. Road safety is always the driver's responsibility.
See also:
Defroster
Check operation by selecting the defrost mode and place the blower control on high speed. You should be able to feel the air directed against the windshield. See your authorized dealer for service ...
Without The Ignition Key
Special care must be taken when the vehicle is towed with the ignition in the OFF/LOCK position. A dolly should be used under the front wheels if the rear wheels are raised. Proper towing equipmen ...
Inside Day/Night Mirror
The mirror can be adjusted up, down, left, and right for various drivers. The mirror should be adjusted to center on the view through the rear window. Headlight glare from vehicles behind you can b ...