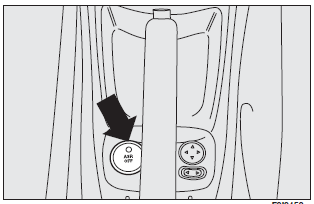 The ASR function switches on automatically each time the engine is started.
When travelling the device can be switched off and on again pressing switch ASR OFF on the centre console.
Switching on is indicated by the relevant message on the reconfigurable multifunction display (where provided) (see section "Warning lights and messages").
When the device is switched off this is shown by the lighting up of the led on the ASR OFF button and by the message on the reconfigurable multifunction display (see section "Warning lights and messages").
If the ASR function is switched off when travelling, it will turn on again automatically the next time the engine is started
When travelling on snow with snow chains, it may be helpful to turn the ASR device off: in fact, in these conditions, slipping of the driving wheels when moving off makes it possible to obtain better drive.
WARNING
The performance of the system, in terms of active safety should not induce the driver to take pointless and unnecessary risks. The style of driving must in any case always be adapted to the conditions of the road surface, visibility an traffic. Road safety is always the driver's responsibility.
See also:
(C) Injecting TIREFIT Sealant Into The DeflatedTire
• Always start the engine before turning ON the TIREFIT kit. NOTE: Manual transmission vehicles must have the parking brake engaged and the shift lever in NEUTRAL. • After pressing the Power Butt ...
Diesel fuel filter
DRAINING THE CONDENSE The presence of water in the fuel circuit may cause serious damage to the entire injection system and cause irregular engine operation. If warning light or comes on th ...
Scheduled servicing
Correct maintenance of the vehicle is essential for ensuring it stays in tiptop condition for a long time to come. This is why Fiat has programmed a series of checks and maintenance operations ev ...