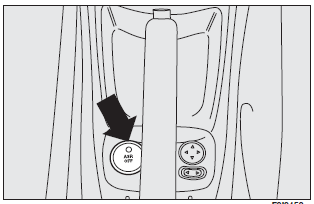 The ASR function switches on automatically each time the engine is started.
When travelling the device can be switched off and on again pressing switch ASR OFF on the centre console.
Switching on is indicated by the relevant message on the reconfigurable multifunction display (where provided) (see section "Warning lights and messages").
When the device is switched off this is shown by the lighting up of the led on the ASR OFF button and by the message on the reconfigurable multifunction display (see section "Warning lights and messages").
If the ASR function is switched off when travelling, it will turn on again automatically the next time the engine is started
When travelling on snow with snow chains, it may be helpful to turn the ASR device off: in fact, in these conditions, slipping of the driving wheels when moving off makes it possible to obtain better drive.
WARNING
The performance of the system, in terms of active safety should not induce the driver to take pointless and unnecessary risks. The style of driving must in any case always be adapted to the conditions of the road surface, visibility an traffic. Road safety is always the driver's responsibility.
See also:
Brake System
In the event power assist is lost for any reason (for example; repeated brake applications with the engine off), the brakes will still function. The effort required to brake the vehicle will be si ...
TIREFIT Kit Components And Operation
1. Sealant Bottle 2. Deflation Button 3. Pressure Gauge 4. Power Button 5. Mode Select Knob 6. Sealant Hose (Clear) 7. Air Pump Hose (Black) 8. Power Plug Using The Mode Select Knob And Hose ...
Inflating procedure
Put on the protection gloves provided together with quick tyre repair kit. – Pull up the handbrake. Loosen tyre inflation valve cap, take out the filler hose A-fig. 16c and screw the ring nut B-fi ...