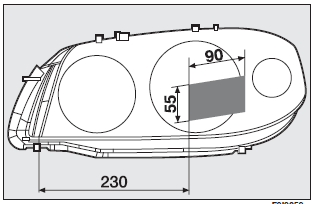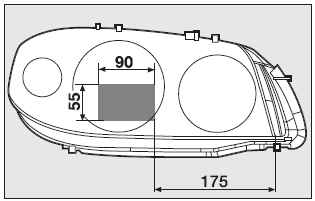 The dipped beam headlights are adjusted for circulation in the country in which the vehicle is marketed. In countries with opposite circulation, to avoid glaring oncoming vehicles it is necessary to cover the areas of the headlight as shown below; this is done using non-transparent sticker tape. Figures refer to passing from right-hand drive to left-hand drive.
See also:
To open the bonnet
Proceed as follows: ❒ pull lever (A) in the direction of the arrow; ❒ press lever (B) as shown by the arrow; ❒ open the bonnet and release the rod (C) from its clip at th ...
Traction Control System (TCS)
This system monitors the amount of wheel spin of each of the driven wheels. If wheel spin is detected, brake pressure is applied to the slipping wheel(s) and engine power is reduced to provide enh ...
Activation
Move the right-hand stalk downwards by one position. The activation of the rain sensor is signalled by a control acquisition "stroke". IMPORTANT Keep clean the glass in the sensor area. Turning t ...