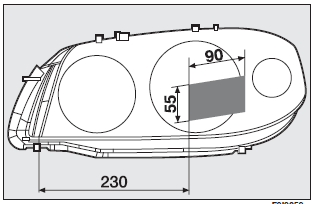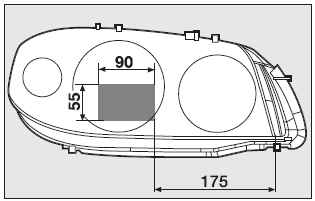 The dipped beam headlights are adjusted for circulation in the country in which the vehicle is marketed. In countries with opposite circulation, to avoid glaring oncoming vehicles it is necessary to cover the areas of the headlight as shown below; this is done using non-transparent sticker tape. Figures refer to passing from right-hand drive to left-hand drive.
See also:
Glow plug warming failure
The warning light on the dial flashing (on certain versions together with the message on the display) when there is a failure in the glow plug warming system. Contact Fiat Dealership as soon a ...
At the filling station
Make sure that the left-hand sliding side door is completely closed before refueling. You could damage the door and the sliding lock system which comes into play when the fuel flap is open. Y ...
28. Tachometer
The white area of the scale shows the permissible engine revolutions-per-minute (RPM x 1000) for each gear range. Before reaching the red area, ease up on the accelerator to prevent engine damage. ...