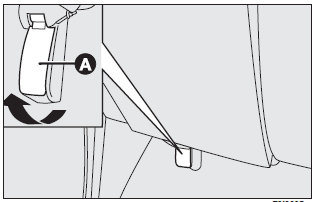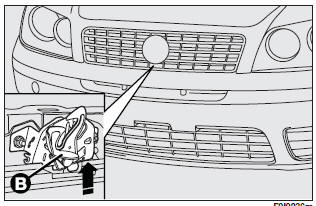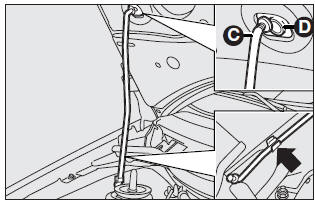 Proceed as follows:
❒ pull lever (A) in the direction of the arrow;
❒ press lever (B) as shown by the arrow;
❒ open the bonnet and release the rod (C) from its clip at the same time. Insert the end of the rod in its recess (D) on the bonnet.
IMPORTANT Before opening the bonnet, check the windscreen wiper arms are not lifted from the windscreen.
See also:
Supplemental Seat-Mounted Side Air Bag (SAB)Inflator Units
The Supplemental Seat-Mounted Side Air Bags (SAB) are designed to activate only in certain side collisions. The ORC determines if a side collision requires the side air bags to inflate, based on ...
Rear window wash/wipe function
This device can only work when the ignition key is at MAR. To switch the rear window wiper on, turn the knurled ring from O to . To wash the window push the stalk towards the dashboard. On cert ...
General failure indication
The warning light on the dial comes on when a failure is detected. ...