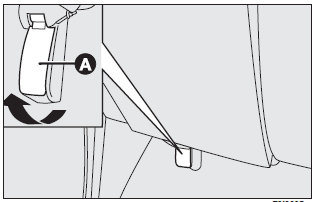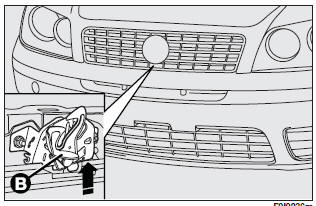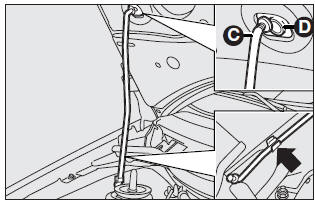 Proceed as follows:
❒ pull lever (A) in the direction of the arrow;
❒ press lever (B) as shown by the arrow;
❒ open the bonnet and release the rod (C) from its clip at the same time. Insert the end of the rod in its recess (D) on the bonnet.
IMPORTANT Before opening the bonnet, check the windscreen wiper arms are not lifted from the windscreen.
See also:
Maintenance-Free Battery
Your vehicle is equipped with a maintenance-free battery. You will never have to add water, nor is periodic maintenance required. WARNING! Х Battery fluid is a corrosive acid solution and can burn ...
Vehicle Storage
If you are leaving your vehicle dormant for more than 21 days, you may want to take these steps to protect your battery. Х Disconnect the negative cable from the battery. Х Anytime you store your ...
How to keep the seat belts always in efficient conditions
Observe the following: ❒ Always use the belt with the tape taut and never twisted; make sure that it is free to run without impediments; ❒ After a serious accident, replace the belt ...