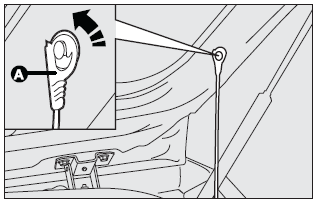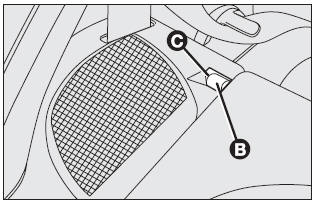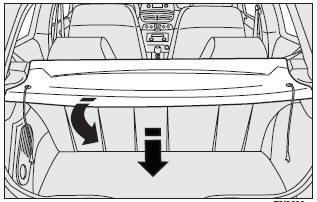 Proceed as follows:
❒ release the upper ends (A) of the two tie-rods by removing the eyelets;
❒ release the shelf eyelets (B) from their recesses (C);
❒ move the shelf towards the inside and turn it as shown in the figure to remove.
Once removed, the shelf can be placed sideways between the backs of the front seats and the cushion of the rear seat that has been tipped down.
IMPORTANT If there is a fairly heavy load in the boot and you are travelling at night, it is a good idea to check and adjust the height of the dipped beam headlights (see "Headlights" in this section).
See also:
Radio transmitters and cellular telephones
Radio transceiver equipment (e.g.: etacs mobile phones, HAM radio systems and the like) shall not be used inside the vehicle unless a separate aerial is mounted on the roof. IMPORTANT The use of ...
Emissions Inspection And MaintenancePrograms
In some localities, it may be a legal requirement to pass an inspection of your vehicle's emissions control system. Failure to pass could prevent vehicle registration. For states that require an ...
23. Anti-Lock Brake (ABS) Light
This light monitors the Anti-Lock Brake System (ABS). The light will turn on when the ignition switch is turned to the ON/RUN position and may stay on for as long as four seconds. If the ABS li ...