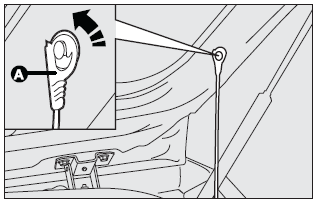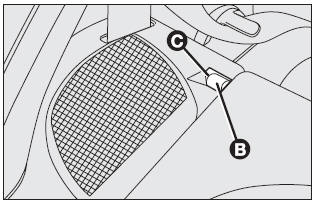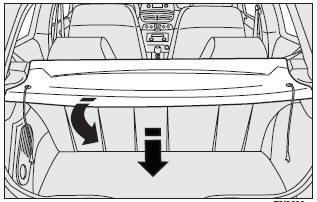 Proceed as follows:
❒ release the upper ends (A) of the two tie-rods by removing the eyelets;
❒ release the shelf eyelets (B) from their recesses (C);
❒ move the shelf towards the inside and turn it as shown in the figure to remove.
Once removed, the shelf can be placed sideways between the backs of the front seats and the cushion of the rear seat that has been tipped down.
IMPORTANT If there is a fairly heavy load in the boot and you are travelling at night, it is a good idea to check and adjust the height of the dipped beam headlights (see "Headlights" in this section).
See also:
Dipped beam headlights
Turn the knurled ring to . The warning light on the instrument cluster will come on. With dipped beam and front fog lights on, turning on the main beam headlights will turn off automatically ...
Underhood Fuses
The Front Distribution Unit is located on the right side of the engine compartment, next to the battery. To access the fuses, press the release tabs and remove the cover. Front Distribution ...
Radio Operation
Pressing the top of the switch will "Seek" up for the next listenable station and pressing the bottom of the switch will "Seek" down for the next listenable station. The button located in the cente ...