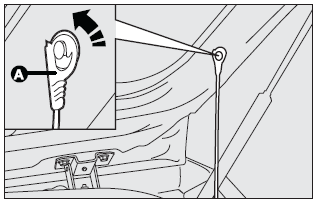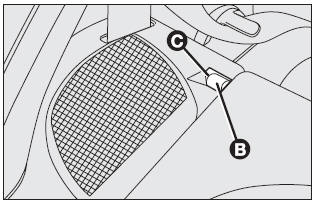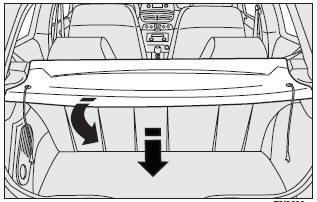 Proceed as follows:
❒ release the upper ends (A) of the two tie-rods by removing the eyelets;
❒ release the shelf eyelets (B) from their recesses (C);
❒ move the shelf towards the inside and turn it as shown in the figure to remove.
Once removed, the shelf can be placed sideways between the backs of the front seats and the cushion of the rear seat that has been tipped down.
IMPORTANT If there is a fairly heavy load in the boot and you are travelling at night, it is a good idea to check and adjust the height of the dipped beam headlights (see "Headlights" in this section).
See also:
Power windows
CONTROLS Power windows are controlled by two switches located on the dashboard when the key is at MAR: (A): to open/close the front left-hand window; (B): to open/close the front right-hand win ...
Diesel engines
If the outside temperature is very low, the diesel thickens due to the formation of paraffins and could clog the diesel fuel filter. In order to avoid these problems, different types of diesel are ...
Overview
Windows Mobile™-based FIAT BLUE&ME™ is a personal telematic system enabling you to use communication and entertainment applications expressly designed for use in the car. The BLUE&ME™ sys ...