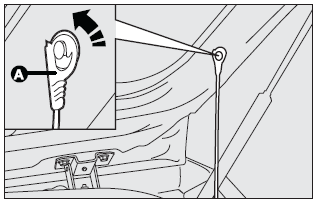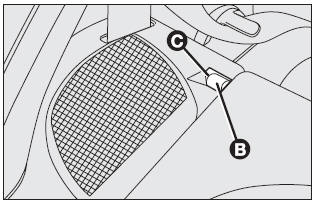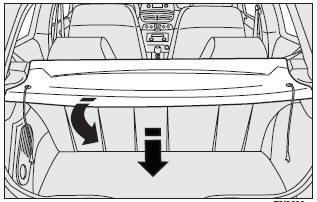 Proceed as follows:
❒ release the upper ends (A) of the two tie-rods by removing the eyelets;
❒ release the shelf eyelets (B) from their recesses (C);
❒ move the shelf towards the inside and turn it as shown in the figure to remove.
Once removed, the shelf can be placed sideways between the backs of the front seats and the cushion of the rear seat that has been tipped down.
IMPORTANT If there is a fairly heavy load in the boot and you are travelling at night, it is a good idea to check and adjust the height of the dipped beam headlights (see "Headlights" in this section).
See also:
Refitting the standard wheel
Proceed as follows: ❒ Following the procedure described previously, raise the car and remove the spare wheel; ❒ Make sure the contact surfaces between wheel and hub are clean so ...
Set date (Date Adjustm.)
To correct the date (year - month - day ) proceed as follows: ...
Interiors
From time to time check that water has not collected under the mats (from dripping shoes, umbrellas etc.) which could cause the steel to rust. Never use inflammable products such as petroleum ethe ...