This system allows you to lock or unlock the doors and liftgate from distances up to approximately 66 ft (20 m) using a hand-held Remote Keyless Entry (RKE) transmitter.
The RKE transmitter does not need to be pointed at the vehicle to activate the system.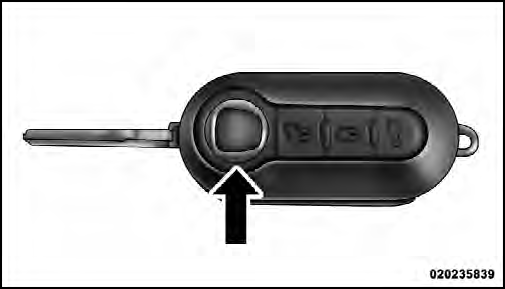 Remote Keyless Entry Transmitter With Mechanical Key Release Button

NOTE: The line of transmission must not be blocked with metal objects.
See also:
Protection from atmospheric agents
The main causes of corrosion are the following: ❒ atmospheric pollution; ❒ salty air and humidity (coastal areas, or hot humid climates); ❒ seasonal environment conditions. No ...
Cellular phone set-up
The system set-up, combined with radio consists of: ❒ dual-purpose aerial (sound system + cellular phone 900/1800 MHz), on the car roof; ❒ dual-purpose connection wires and ten-pin c ...
Tailgate emergency opening
On versions with front seats that do not fold over, there is an opening device inside the tailgate to allow the occupants to evacuate the rear seats in an emergency. To unlock the tail age, operat ...