For front passengers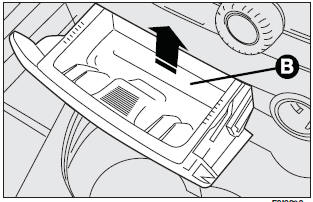 Pull the flap towards yourself. Remove the ashtray (B) by pulling it upwards as shown by the arrow for emptying it.
For rear passengers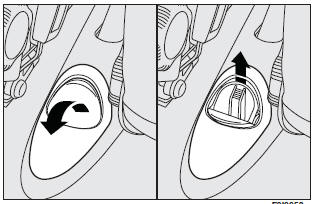 For rear passengers there is a concealed ashtray set on the central console.
Pull it as shown by the arrows for use and removal.
IMPORTANT Do not use the ashtray as waste paper basket: it might set on fire in contact with cigarettes stub.
Non smokers can remove both the front and rear ashtrays and use the handy oddment compartment which results.
See also:
TIREFIT Kit Components And Operation
1. Sealant Bottle 2. Deflation Button 3. Pressure Gauge 4. Power Button 5. Mode Select Knob 6. Sealant Hose (Clear) 7. Air Pump Hose (Black) 8. Power Plug Using The Mode Select Knob And Hose ...
Brake System
In the event power assist is lost for any reason (for example; repeated brake applications with the engine off), the brakes will still function. The effort required to brake the vehicle will be si ...
Power Mirrors
The power mirror controls are located on the driver's door trim panel. Power Mirror Switches The power mirror controls consist of a mirror select switch and a four-way mirror control switch. To ...