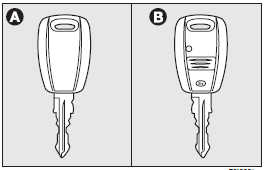 Key (A) (or (C) in alternative), delivered in two copies when the car is not fitted with remote control, controls the following:
❒ the ignition switch;
❒ the door and boot locks;
❒ the fuel filler cap locking/unlocking (versions with fuel filler cap with keylock);
❒ the switch to deactivate the passenger's air bag (where provided).
See also:
4. Low Fuel Light
When the fuel level reaches approximately 1.0 gallon (3.8L) this light will turn on, and remain on until fuel is added. ...
If an interior light burns out
For the type of bulb and power rating, see "When needing to change a bulb". ...
Fan speed adjustment
Proceed as follows: ❒ open completely central vents and side outlets; ❒ turn knob (A) to the blue sector; ❒ slider (B) at ; ❒ turn knob (C) to the required speed; ...