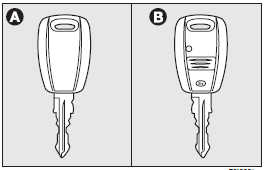 Key (A) (or (C) in alternative), delivered in two copies when the car is not fitted with remote control, controls the following:
❒ the ignition switch;
❒ the door and boot locks;
❒ the fuel filler cap locking/unlocking (versions with fuel filler cap with keylock);
❒ the switch to deactivate the passenger's air bag (where provided).
See also:
Conditions of use
Cold starting Frequent cold starting will not enable the engine to reach optimal running temperature. It follows, therefore, that consumption will be higher (from +15 to +30% in towns) as will th ...
Without The Ignition Key
Special care must be taken when the vehicle is towed with the ignition in the OFF/LOCK position. A dolly should be used under the front wheels if the rear wheels are raised. Proper towing equipmen ...
Glow plug warming failure
The warning light on the dial flashing (on certain versions together with the message on the display) when there is a failure in the glow plug warming system. Contact Fiat Dealership as soon a ...