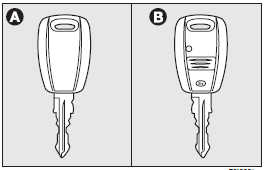 Key (A) (or (C) in alternative), delivered in two copies when the car is not fitted with remote control, controls the following:
❒ the ignition switch;
❒ the door and boot locks;
❒ the fuel filler cap locking/unlocking (versions with fuel filler cap with keylock);
❒ the switch to deactivate the passenger's air bag (where provided).
See also:
Car protection system failure - fiat code
Turning the key to MAR the warning light on the dial shall flash only once and then go off. If with the ignition key at MAR the warning light stays on, this indicates a possible failure (see "Th ...
How to warm up the engine after is has just started (petrol and diesel versions)
– Begin to move forward slowly letting the engine turn at medium revs. Do not accelerate abruptly. – Do not push the engine to its limit for the first few kilometers. You are recommended to wait u ...
Wheels
RIMS AND TYRES High resistance printed steel rims of alloy rims. Tubeless tyres with radial carcass. The homologated tyres are listed in the log book. IMPORTANT In the event of discrepancies betw ...