In the event of an impact causing airbag deployment, if the communication network remains intact, and the power remains intact, depending on the nature of the event the ORC will determine whether to have the Enhanced Accident Response System perform the following functions:
Х Cut off fuel to the engine.
Х Flash hazard lights as long as the battery has power or until the ignition key is turned off.
Х Turn on the interior lights, which remain on as long as the battery has power or until the ignition key is removed.
Х Unlock the doors automatically.
After the event occurs, when the system is active, the message Fuel Cutoff See Handbook is displayed.
Carefully check the vehicle for fuel leaks in the engine compartment and on the ground near the engine compartment and fuel tank before resetting the system and starting the engine.
System Reset Procedure
After an impact causing airbag deployment, the left and right turn signal lights, located in the instrument panel cluster, will both be blinking, until the ignition is turned off.
In order to move your vehicle to the side of the road you must follow the system reset procedure.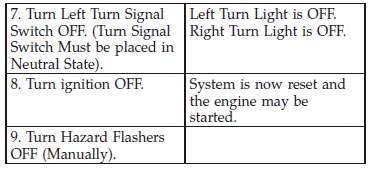 If a reset procedure step is not completed within 45 seconds, then the turn signal lights will turn off and the reset procedure must be performed again in order to be successful.
See also:
9. Air Bag Warning Light
This light will turn on for four seconds as a bulb check when the ignition switch is first turned to ON/RUN. If the light is either not on during starting, stays on, or turns on while driving, h ...
General Information
This device complies with Part 15 of FCC rules and with RS-210 of Industry Canada. Operation is subject to the following conditions: 1. This device may not cause harmful interference. 2. This dev ...
GROUP 0 and 0+
Babies up to 13 kg must be carried facing backwards on a cradle seat, which, supporting the head, does not induce stress on the neck in the event of sharp deceleration. The cradle is restrained b ...