In the event of an impact causing airbag deployment, if the communication network remains intact, and the power remains intact, depending on the nature of the event the ORC will determine whether to have the Enhanced Accident Response System perform the following functions:
Х Cut off fuel to the engine.
Х Flash hazard lights as long as the battery has power or until the ignition key is turned off.
Х Turn on the interior lights, which remain on as long as the battery has power or until the ignition key is removed.
Х Unlock the doors automatically.
After the event occurs, when the system is active, the message Fuel Cutoff See Handbook is displayed.
Carefully check the vehicle for fuel leaks in the engine compartment and on the ground near the engine compartment and fuel tank before resetting the system and starting the engine.
System Reset Procedure
After an impact causing airbag deployment, the left and right turn signal lights, located in the instrument panel cluster, will both be blinking, until the ignition is turned off.
In order to move your vehicle to the side of the road you must follow the system reset procedure.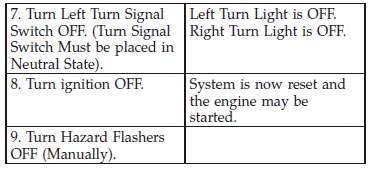 If a reset procedure step is not completed within 45 seconds, then the turn signal lights will turn off and the reset procedure must be performed again in order to be successful.
See also:
Automatic Operation
1. Press the AUTO button on the Automatic Temperature Control (ATC) Panel, the indicator will illuminate when on. 2. Next, adjust the temperature you would like the system to maintain by adjusting ...
Chassis
...
Event Data Recorder (EDR)
This vehicle is equipped with an event data recorder (EDR). The main purpose of an EDR is to record, in certain crash or near crash-like situations, such as an air bag deployment or hitting a road ...