In the event of an impact causing airbag deployment, if the communication network remains intact, and the power remains intact, depending on the nature of the event the ORC will determine whether to have the Enhanced Accident Response System perform the following functions:
Х Cut off fuel to the engine.
Х Flash hazard lights as long as the battery has power or until the ignition key is turned off.
Х Turn on the interior lights, which remain on as long as the battery has power or until the ignition key is removed.
Х Unlock the doors automatically.
After the event occurs, when the system is active, the message Fuel Cutoff See Handbook is displayed.
Carefully check the vehicle for fuel leaks in the engine compartment and on the ground near the engine compartment and fuel tank before resetting the system and starting the engine.
System Reset Procedure
After an impact causing airbag deployment, the left and right turn signal lights, located in the instrument panel cluster, will both be blinking, until the ignition is turned off.
In order to move your vehicle to the side of the road you must follow the system reset procedure.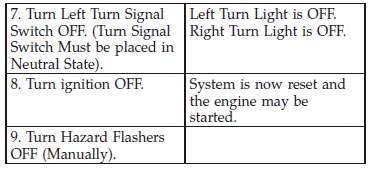 If a reset procedure step is not completed within 45 seconds, then the turn signal lights will turn off and the reset procedure must be performed again in order to be successful.
See also:
Environment and economy
The Fiat Doblò will be launched with four engines with 5 or 6 speed gearboxes, all designed and made by FPT - Fiat Powertrain Technologies: 1.3 Multijet II 16v - 90 HP (Euro 4); 1.6 Multij ...
Automatic Dimming Mirror Ч If Equipped
This mirror automatically adjusts for headlight glare from vehicles behind you. You can turn the feature on or off by pressing the button at the base of the mirror.Alight to the left of the button ...
Park Assist System Usage Precautions
NOTE: Х Ensure that the outer surface and the underside of the rear bumper is clean and clear of snow, ice, mud, dirt or other obstruction to keep the Rear Park Assist system operating properly ...