The shift lever position display (located in the instrument panel cluster) indicates the transmission gear range. You must press the brake pedal to move the shift lever out of the PARK position (Refer to "Brake/Transmission Shift Interlock System" in this section). To drive, move the shift lever from PARK or NEUTRAL to the DRIVE position.
The electronically-controlled transmission provides a precise shift schedule. The transmission electronics are self-calibrating; therefore, the first few shifts on a new vehicle may be somewhat abrupt. This is a normal condition, and precision shifts will develop within a few hundred miles (kilometers).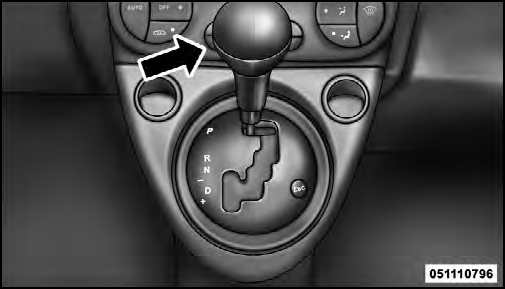 Shift Lever
Shifting from DRIVE to PARK or REVERSE should be done only after the accelerator pedal is released and the vehicle is stopped. Be sure to keep your foot on the brake pedal when moving the shift lever between these gears.
The transmission shift lever has only PARK, REVERSE, NEUTRAL, and DRIVE shift positions. Manual shifts can be made using the AutoStick shift control (refer to "AutoStick " in "Starting and Operating" for further information). Moving the shift lever forward or rearward (–/ +) while in the AutoStick position (beside the DRIVE position) will manually select the transmission gear, and will display the current gear in the instrument cluster as 6, 5, 4, 3, 2, 1.
See also:
Important notes
As far as possible avoid sharp braking and screech starts. Be careful not to hit the kerb, potholes or other obstacles hard. Driving for long stretches over bumpy roads can damage the tyres. Perio ...
Trip Button
The TRIP button, located on the right steering column stalk, can be used to display and to reset the previously described values. • A short button press displays the different values. • A long but ...
SOUND system
Large oddment compartments in the dashboard and doors which make the passenger compartment even more comfortable can be fond in cars not equipped with a sound system set-up. A specific kit can be ...