The shift lever position display (located in the instrument panel cluster) indicates the transmission gear range. You must press the brake pedal to move the shift lever out of the PARK position (Refer to "Brake/Transmission Shift Interlock System" in this section). To drive, move the shift lever from PARK or NEUTRAL to the DRIVE position.
The electronically-controlled transmission provides a precise shift schedule. The transmission electronics are self-calibrating; therefore, the first few shifts on a new vehicle may be somewhat abrupt. This is a normal condition, and precision shifts will develop within a few hundred miles (kilometers).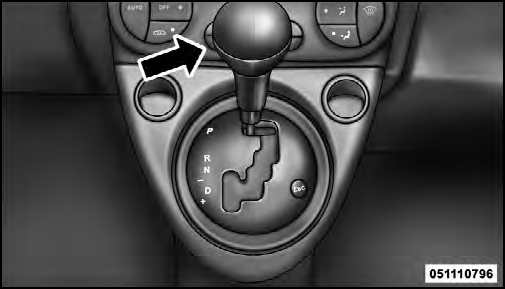 Shift Lever
Shifting from DRIVE to PARK or REVERSE should be done only after the accelerator pedal is released and the vehicle is stopped. Be sure to keep your foot on the brake pedal when moving the shift lever between these gears.
The transmission shift lever has only PARK, REVERSE, NEUTRAL, and DRIVE shift positions. Manual shifts can be made using the AutoStick shift control (refer to "AutoStick " in "Starting and Operating" for further information). Moving the shift lever forward or rearward (–/ +) while in the AutoStick position (beside the DRIVE position) will manually select the transmission gear, and will display the current gear in the instrument cluster as 6, 5, 4, 3, 2, 1.
See also:
Injection system failure
(Multijet versions - amber) EOBD SYSTEM FAILURE (petrol versions - amber) Injection system failure Turning the ignition key to MAR the warning light turns on but it should go off after engine ...
Initial check
Turning the ignition key to MAR, the multifunction display shows the message "Check active": the diagnostic phase of all the electronic systems on the car has started. This lasts few seconds: if n ...
Engine coolant temperature gauge
This shows the temperature of the engine coolant fluid and begins working when the fluid temperature exceeds approx. 50°C. Under normal conditions, the needle should hover around the middle of the ...