The shift lever position display (located in the instrument panel cluster) indicates the transmission gear range. You must press the brake pedal to move the shift lever out of the PARK position (Refer to "Brake/Transmission Shift Interlock System" in this section). To drive, move the shift lever from PARK or NEUTRAL to the DRIVE position.
The electronically-controlled transmission provides a precise shift schedule. The transmission electronics are self-calibrating; therefore, the first few shifts on a new vehicle may be somewhat abrupt. This is a normal condition, and precision shifts will develop within a few hundred miles (kilometers).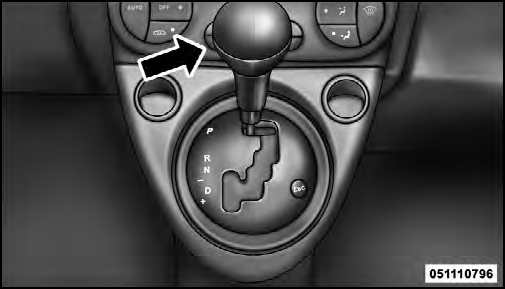 Shift Lever
Shifting from DRIVE to PARK or REVERSE should be done only after the accelerator pedal is released and the vehicle is stopped. Be sure to keep your foot on the brake pedal when moving the shift lever between these gears.
The transmission shift lever has only PARK, REVERSE, NEUTRAL, and DRIVE shift positions. Manual shifts can be made using the AutoStick shift control (refer to "AutoStick " in "Starting and Operating" for further information). Moving the shift lever forward or rearward (–/ +) while in the AutoStick position (beside the DRIVE position) will manually select the transmission gear, and will display the current gear in the instrument cluster as 6, 5, 4, 3, 2, 1.
See also:
Bump starting
Never bump start the engine (by pushing, towing or coasting downhill). This could cause fuel to flow into the catalytic converter and damage it beyond repair. IMPORTANT Remember that the servobrake ...
Auto-Down — If Equipped
The driver's door window switch may have an Auto- Down feature. Press the window switch for approximately one second, release, and the window will go Power Window Switches 2 THINGS TO KNOW BEFORE ...
Multifunction Lever
The multifunction lever, located on the left side of the steering wheel, controls the operation of the headlights, headlight beam selection, passing light and turn signals. NOTE: The external li ...