WARNING!
You or others could be injured if you leave the vehicle unattended without having the parking brake fully applied. The parking brake should always be applied when the driver is not in the vehicle, especially on an incline.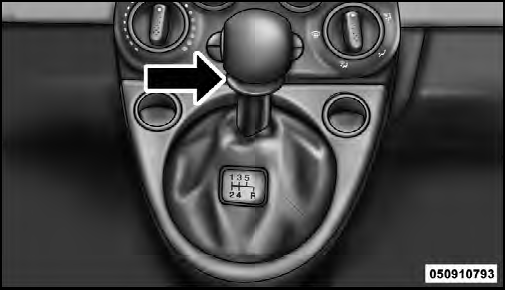 Shift Lever
Fully press the clutch pedal before you shift gears. As you release the clutch pedal, lightly press the accelerator pedal.

NOTE: To shift into REVERSE from NEUTRAL, lift the ring under the knob and, at the same time move the gearshift lever to the right and then backward.
Use each gear in numerical order; do not skip a gear. Be sure the transmission is in first gear, not third, when starting from a standing position. Damage to the clutch can result from starting in third gear.
For most city driving, you will find it easier to use only the lower gears. For steady highway driving with light accelerations, fifth gear is recommended.
Never drive with your foot resting on the clutch pedal, and never try to hold the vehicle on a hill with the clutch pedal partially engaged. This will cause abnormal wear on the clutch.
REVERSE gear is not synchronized and the vehicle must be at a complete stop to shift into REVERSE gear. When selecting REVERSE gear, the driver should pause (approximately 2 seconds) after pushing in the clutch pedal and prior to shifting into REVERSE which allows gears to stop spinning. Should an unwanted clash noise be produced, the pause length should be increased.

NOTE:
Х Clashing REVERSE gear, especially if vehicle is moving, can result in transmission damage.
Х During cold weather, until the transmission lubricant is warm, you may experience slightly higher shift efforts. This is normal and not harmful to the transmission.
See also:
Low engine oil pressure
Turning the key to MAR the warning light on the dial turns on, but it should go off as soon as the engine is started. If the warning light turns on when the car is travelling (on certain ver ...
25. Temperature Gauge
The temperature digital scale shows engine coolant temperature. Any reading within the normal range indicates that the engine cooling system is operating satisfactorily. The gauge pointer will lik ...
Cellular phone set-up
The system set-up, combined with radio consists of: ❒ dual-purpose aerial (sound system + cellular phone 900/1800 MHz), on the car roof; ❒ dual-purpose connection wires and ten-pin c ...