Loading ramps are available at Line accessory Fiat.

Loading with ramps shall be only carried out with the vehicle stationary and handbrake engaged.

Never move the vehicle with ramps extracted.
Before restarting the vehicle always check that ramps are properly secured into their housings.
To use the rear ramp fig. 137, strictly follow the instructions shown on the plate applied on the left side of the boot.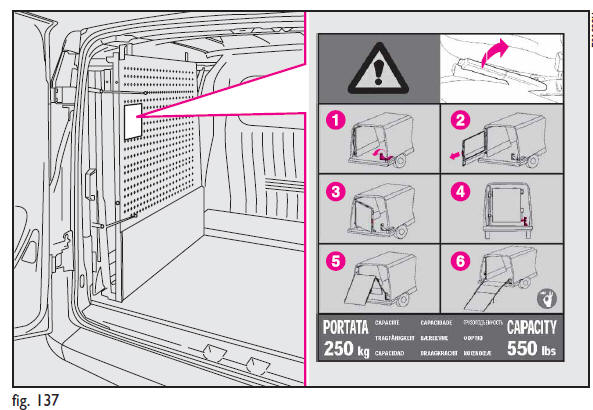 IMPORTANT
Max. rear ramp carrying capacity is 250 kg.
To use the side ramp, fig. 138, open the side sliding door, take handle A and take out the ramp as shown by the arrow until locking it.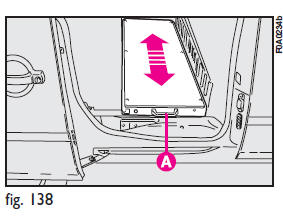 See also:
Cruise control
It is a device able to support the driver, with electronic control, which allows driving at speed over 30 km/h on long and straight dry roads (e.g.: motorways), at a desired speed, without pressin ...
Cargo Area Features
The rear seatbacks have a fold down feature to allow increased cargo capacity. Push down the release button, located at the outboard top of the seatback and move the seatback to its foldeddown posi ...
Ignition device
The key can be turned to 4 different positions fig. 26: – STOP: engine off, key can be removed, steering column locked. Some electrical devices can be worked (e.g. sound system, electric window wi ...