Loading ramps are available at Line accessory Fiat.

Loading with ramps shall be only carried out with the vehicle stationary and handbrake engaged.

Never move the vehicle with ramps extracted.
Before restarting the vehicle always check that ramps are properly secured into their housings.
To use the rear ramp fig. 137, strictly follow the instructions shown on the plate applied on the left side of the boot.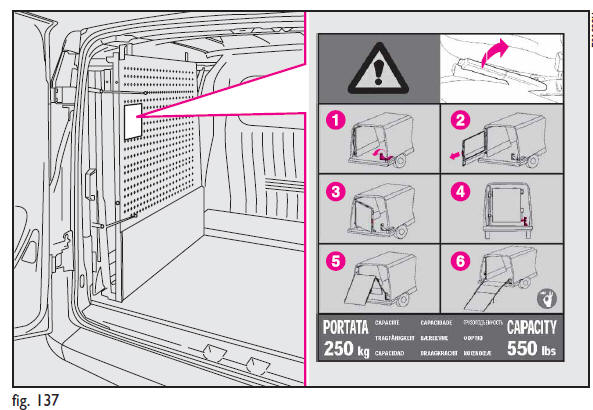 IMPORTANT
Max. rear ramp carrying capacity is 250 kg.
To use the side ramp, fig. 138, open the side sliding door, take handle A and take out the ramp as shown by the arrow until locking it.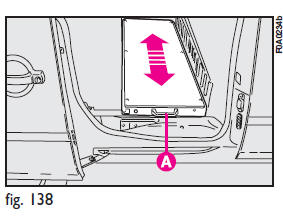 See also:
Operating Tips
Window Fogging Windows will fog on the inside when the humidity inside the vehicle is high. This often occurs in mild or cool temperatures when it's rainy or humid. In most cases, turning the air ...
Language (Lang.)
Display messages can be shown in different languages (Italian, Dutch, English, Spanish, French, Portuguese, German). To select the required language proceed as follows: ...
EZ Entry Feature
The driver and front passenger seats have an EZ entry feature for rear seat passengers. Pull forward on the release lever, located on the outboard side of the seatback, dump the seatback forward, ...