Loading ramps are available at Line accessory Fiat.

Loading with ramps shall be only carried out with the vehicle stationary and handbrake engaged.

Never move the vehicle with ramps extracted.
Before restarting the vehicle always check that ramps are properly secured into their housings.
To use the rear ramp fig. 137, strictly follow the instructions shown on the plate applied on the left side of the boot.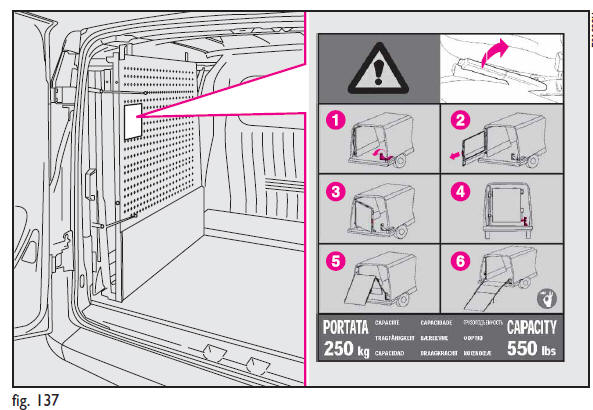 IMPORTANT
Max. rear ramp carrying capacity is 250 kg.
To use the side ramp, fig. 138, open the side sliding door, take handle A and take out the ramp as shown by the arrow until locking it.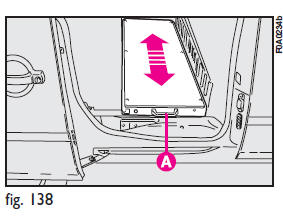 See also:
Reactive Head Restraints Ч Front Seats
The front driver and passenger seats are equipped with Reactive Head Restraints. In the event of a rear impact the Reactive Head Restraints will automatically extend forward minimizing the gap bet ...
Overview
Windows MobileЩ-based FIAT BLUE&MEЩ is a personal telematic system enabling you to use communication and entertainment applications expressly designed for use in the car. The BLUE&MEЩ sys ...