Loading ramps are available at Line accessory Fiat.

Loading with ramps shall be only carried out with the vehicle stationary and handbrake engaged.

Never move the vehicle with ramps extracted.
Before restarting the vehicle always check that ramps are properly secured into their housings.
To use the rear ramp fig. 137, strictly follow the instructions shown on the plate applied on the left side of the boot.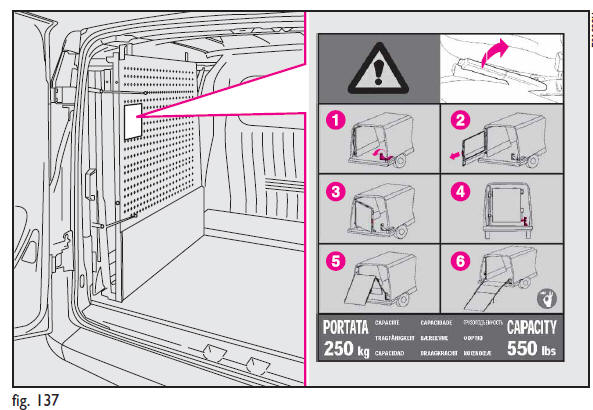 IMPORTANT
Max. rear ramp carrying capacity is 250 kg.
To use the side ramp, fig. 138, open the side sliding door, take handle A and take out the ramp as shown by the arrow until locking it.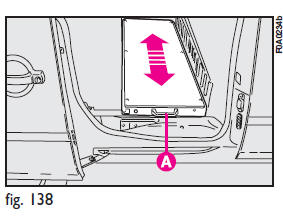 See also:
Containing running costs and pollution
Some suggestions which may help you to keep the running costs of the vehicle down and lower the amount of toxic emissions released into the atmosphere are given below. ...
Supplemental Seat-Mounted Side Air Bags (SAB)
Supplemental Seat-Mounted Side Air Bags (SAB) provide enhanced protection to help protect an occupant during a side impact. The SAB are marked with an air bag label sewn into the outboard side of ...
Advice for preserving the bodywork
Paint Paintwork does not only serve an aestethic purpose, but also protects the underlying sheet metal. In the case of deep scrapes or scores, you are advised to have the necessary touching up c ...