Loading ramps are available at Line accessory Fiat.

Loading with ramps shall be only carried out with the vehicle stationary and handbrake engaged.

Never move the vehicle with ramps extracted.
Before restarting the vehicle always check that ramps are properly secured into their housings.
To use the rear ramp fig. 137, strictly follow the instructions shown on the plate applied on the left side of the boot.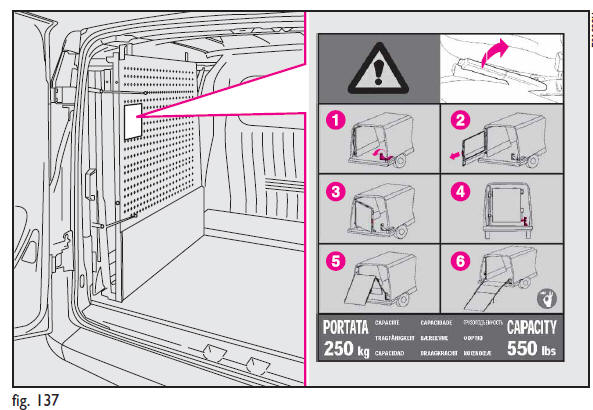 IMPORTANT
Max. rear ramp carrying capacity is 250 kg.
To use the side ramp, fig. 138, open the side sliding door, take handle A and take out the ramp as shown by the arrow until locking it.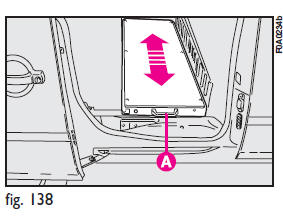 See also:
Recirculation
Move slider (B) to . This function is particularly useful when the outside air is heavily polluted (in a traffic jam, tunnel, etc.). However, it is better not to use it for long periods, especial ...
Event Data Recorder (EDR)
This vehicle is equipped with an event data recorder (EDR). The main purpose of an EDR is to record, in certain crash or near crash-like situations, such as an air bag deployment or hitting a road ...
Engine Oil Filter
The engine oil filter should be replaced with a new filter at every engine oil change. Engine Oil Filter Selection All of this manufacturer's engines have a full-flow type disposable oil filter. ...