EVIC Display Manual Transmission
1 Ч Temperature Indicator
6 Ч Message Display
2 Ч Fuel Level Gauge
7 Ч Coolant Temperature Gauge
3 Ч Clock
8 Ч Digital Speedometer
4 Ч Odometer
9 Ч Ice Warning Indicator
5 Ч Sport Mode
10 Ч Gear Shift Indicator (GSI)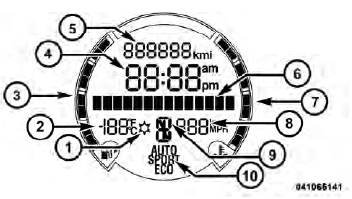 EVIC Display Automatic Transmission
1 Ч Ice Warning Indicator
6 Ч Message Display
2 Ч Temperature Indicator
7 Ч Coolant Temperature Gauge
3 Ч Fuel Level Gauge
8 Ч Digital Speedometer
4 Ч Clock
9 Ч Autostick Gear Indicator
5 Ч Odometer
10 Ч Auto/Sport/ECO Indicator
See also:
Glove Box Compartment
The glove box is located on the right side of the instrument panel. Pull outward on the door latch to open the glove box. Push the glove box door upward to close it. Glove Box Compartment ...
Emergency start-up
If the Fiat CODE system fails to deactivate engine immobilising system the warning lights Yand U stay on and the engine cannot be started. To start the engine the emergency start-up can be performe ...
Downshifting
Proper downshifting will improve fuel economy and prolong engine life. CAUTION! If you skip more than one gear while downshifting or downshift at too high a vehicle speed, you could damage the en ...