EVIC Display Manual Transmission
1 Ч Temperature Indicator
6 Ч Message Display
2 Ч Fuel Level Gauge
7 Ч Coolant Temperature Gauge
3 Ч Clock
8 Ч Digital Speedometer
4 Ч Odometer
9 Ч Ice Warning Indicator
5 Ч Sport Mode
10 Ч Gear Shift Indicator (GSI)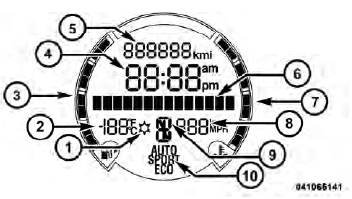 EVIC Display Automatic Transmission
1 Ч Ice Warning Indicator
6 Ч Message Display
2 Ч Temperature Indicator
7 Ч Coolant Temperature Gauge
3 Ч Fuel Level Gauge
8 Ч Digital Speedometer
4 Ч Clock
9 Ч Autostick Gear Indicator
5 Ч Odometer
10 Ч Auto/Sport/ECO Indicator
See also:
Important notes
For towing caravans or trailers the car must be fitted with a certified tow hook and an adequate electric system. Installation should be carried out by specialised personnel who release a special ...
Boot light
To replace the bulb: 1) Remove the lens A-fig. 39 as shown by the arrow. 2) Open the bulb holder B and remove the bulb C (clipped in). ...
Supplemental Driver Side Knee Air Bag InflatorUnit
The Supplemental Driver Side Knee Air Bag unit is located in the instrument panel trim beneath the steering column. When the ORC detects a collision requiring the air bag, it signals the inflator ...