EVIC Display Manual Transmission
1 — Temperature Indicator
6 — Message Display
2 — Fuel Level Gauge
7 — Coolant Temperature Gauge
3 — Clock
8 — Digital Speedometer
4 — Odometer
9 — Ice Warning Indicator
5 — Sport Mode
10 — Gear Shift Indicator (GSI)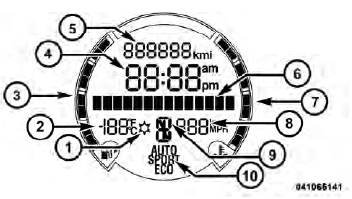 EVIC Display Automatic Transmission
1 — Ice Warning Indicator
6 — Message Display
2 — Temperature Indicator
7 — Coolant Temperature Gauge
3 — Fuel Level Gauge
8 — Digital Speedometer
4 — Clock
9 — Autostick Gear Indicator
5 — Odometer
10 — Auto/Sport/ECO Indicator
See also:
Manually deactivating passenger's front air bag (where required)
Should it be absolutely necessary to carry a child on the front seat, the passenger's air bag on the car can be deactivated. Deactivation/reactivation takes place with ignition key at STOP and op ...
General information
The front and/or side airbags can be triggered if the vehicle is subjected to strong knocks or impacts underneath, e.g. violent crashes into steps, kerbs or fixed projections from the ground, fall ...
25. Temperature Gauge
The temperature digital scale shows engine coolant temperature. Any reading within the normal range indicates that the engine cooling system is operating satisfactorily. The gauge pointer will lik ...