EVIC Display Manual Transmission
1 Ч Temperature Indicator
6 Ч Message Display
2 Ч Fuel Level Gauge
7 Ч Coolant Temperature Gauge
3 Ч Clock
8 Ч Digital Speedometer
4 Ч Odometer
9 Ч Ice Warning Indicator
5 Ч Sport Mode
10 Ч Gear Shift Indicator (GSI)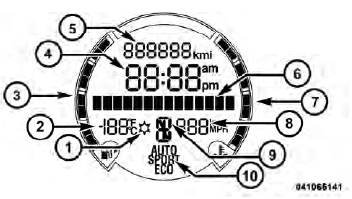 EVIC Display Automatic Transmission
1 Ч Ice Warning Indicator
6 Ч Message Display
2 Ч Temperature Indicator
7 Ч Coolant Temperature Gauge
3 Ч Fuel Level Gauge
8 Ч Digital Speedometer
4 Ч Clock
9 Ч Autostick Gear Indicator
5 Ч Odometer
10 Ч Auto/Sport/ECO Indicator
See also:
Headlamps
1. Remove the plastic cap from the back of the headlamp housing. 2. Rotate the bulb counter-clockwise. 3. Remove the bulb and replace as needed. 4. Install the bulb and rotate clockwise to lock in ...
Functions And Adjustments
Turning The Car Radio On The car radio comes on when the (ON/OFF) button is pressed briefly. When the car radio is turned on and the on volume limit is on, the volume is limited to a setting of ...
ESP system failure
Turning the ignition key to MAR, the warning light on the dial comes on but shall go off after few seconds. If the warning light does not go off or stays on when travelling (on certain versio ...