This mirror automatically adjusts for headlight glare from vehicles behind you. You can turn the feature on or off by pressing the button at the base of the mirror.Alight to the left of the button will illuminate to indicate when the dimming feature is activated. The sensor to the right of the button does not illuminate.

NOTE: This feature is disabled when the vehicle is moving in reverse.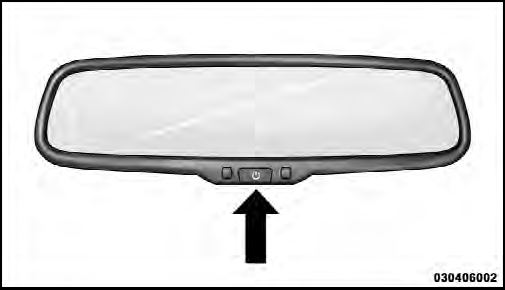 Automatic Dimming Mirror

CAUTION!
To avoid damage to the mirror during cleaning, never spray any cleaning solution directly onto the mirror.
Apply the solution onto a clean cloth and wipe the mirror clean.
See also:
Occupant Restraint Controller (ORC)
The ORC is part of a Federally regulated safety system required for this vehicle. The ORC determines if deployment of the front and/or side air bags in a frontal or side collision is required. Bas ...
(F) Sealant Bottle And Hose Replacement
1. Uncoil the Sealant Hose (6) (clear in color). 2. Locate the round Sealant Bottle release button in the recessed area under the sealant bottle. 3. Press the Sealant Bottle release button. The Se ...
Operation
Each time the car is started turning the ignition key to MAR, the Fiat CODE system control unit sends a recognition code to the engine control unit to deactivate the inhibitor. The code is sent o ...