On vehicles equipped with a power convertible top, the power convertible top switch is located on the overhead console. The switch contains two buttons. The passenger side button, which is used to open the power top, and the driver side button, which is used to close the power top.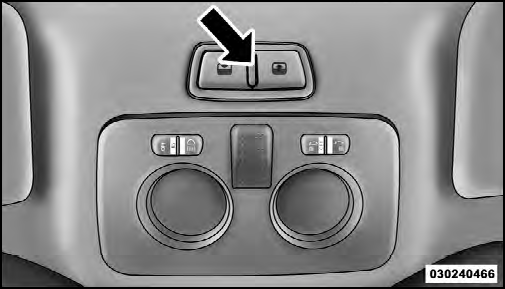 Power Convertible Top Sw

NOTE: The power top buttons will operate when the ignition switch is turned to the ON/RUN or ACC position and when in the power accessory delay.
See also:
MMT In Gasoline
MMT is a manganese containing metallic additive that is blended into some gasoline to increase the octane number. Gasoline blended with MMT offers no performance advantage beyond gasoline of the ...
Wheels and tyres
Check the pressure of each tyre, including the spare, every two weeks and before long journeys. The pressure should be checked with the tyre rested and cold. For the correct tyre inflation pressu ...
GROUP 3
For children from 22 kg up to 36 kg the size of the child's chest no longer requires a support to space the child's back from the seat back. The figure shows proper child seat positioning on the ...