GENERAL FEATURES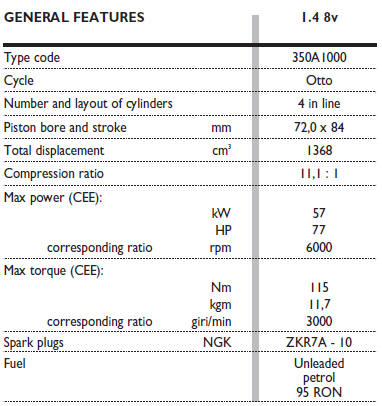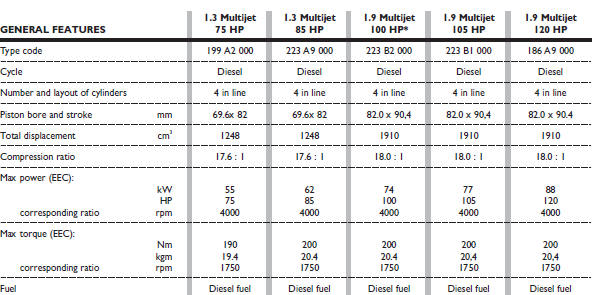 (*) For specific markets where applicable
FUEL SUPPLY/IGNITION
Petrol versions
Electronic Multipoint sequential phased injection integrated with ignition, return less system.

Modifications or repairs to the fuel system that are not carried out properly or do not take the system technical specifications into account can cause malfunctions leading to the risk of fire.
FUEL FEED/IGNITION
Multijet versions
УCommon RailФ electronic control direct injection, turbo and intercooler.
See also:
Preparations For Jacking
1. Park the vehicle on a firm level surface, avoiding ice or slippery areas. WARNING! Do not attempt to change a tire on the side of the vehicle close to moving traffic, pull far enough off the r ...
GROUP 0 and 0+
Babies up to 13 kg must be carried facing backwards on a cradle seat, which, supporting the head, does not induce stress on the neck in the event of sharp deceleration. The cradle is restrained by ...
GROUP 2
Starting from 15 kg to 25 kg in weight, children may be restrained directly by the car belts. The only function of the seat is to position the child correctly in relation to the belts, so that t ...