Check the pressure of each tyre, including the spare, every two weeks and before long journeys.
The pressure must be checked when the tyre is rested and cold.
It is normal for the pressure to rise when you are driving. If you have to check or restore the pressure when the tyres are warm, remember that the pressure value must be 0.3 bar above the specified value.
See "Wheels" in "Technical specifications" for the correct tyre inflation pressure.

Tyre pressure must be correct to ensure good road holding.
Incorrect pressure causes abnormal tyre wear fig. 22:
A - Correct pressure: tyre wears evenly
B - Under inflated tyre: shoulder tread wear
C - Over inflated tyre: centre tread wear.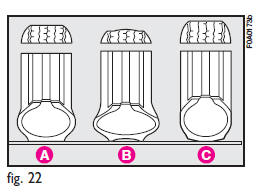 If the pressure is too low the tyre overheats and this can cause it serious damage.
Tyres must be replaced when the tread wears down to 1.6 mm. In any case, comply with the laws in the country where the vehicle is being driven.
See also:
Fire
The 2012 Fiat Punto range starts with the 1.2-litre Fire EVO II engine. This 1.2-litre eight-valve has continuously variable valve timing to optimise the opening and closing of the valves. This en ...
Adding Washer Fluid
The windshield washer fluid reservoir is located in the engine compartment, and the fluid level should be checked at regular intervals. Fill the reservoir with windshield washer solvent (not engin ...
Door mirrors
Manual adjustment From the passenger compartment, use knob (A) to make the required adjustments. When required (for example when the mirror causes difficulty in narrow spaces) it is possible to ...