Check the pressure of each tyre, including the spare, every two weeks and before long journeys.
The pressure must be checked when the tyre is rested and cold.
It is normal for the pressure to rise when you are driving. If you have to check or restore the pressure when the tyres are warm, remember that the pressure value must be 0.3 bar above the specified value.
See "Wheels" in "Technical specifications" for the correct tyre inflation pressure.

Tyre pressure must be correct to ensure good road holding.
Incorrect pressure causes abnormal tyre wear fig. 22:
A - Correct pressure: tyre wears evenly
B - Under inflated tyre: shoulder tread wear
C - Over inflated tyre: centre tread wear.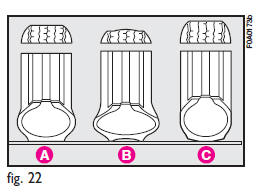 If the pressure is too low the tyre overheats and this can cause it serious damage.
Tyres must be replaced when the tread wears down to 1.6 mm. In any case, comply with the laws in the country where the vehicle is being driven.
See also:
Front/Rear Side Marker Lamps
1. Remove portion of the wheel liner to allow hand access to side marker lamp. 2. Rotate the bulb socket counterclockwise, and remove the bulb and socket assembly from the housing. 3. Pull the bul ...
Wind Stop
TheWind Stop installs in the backseat area of the vehicle. The Wind Stop will not interfere with power top operation. Therefore, it can remain installed when the top is up. ...
Towing the vehicle
A tow hitch is provided with the vehicle. To fasten the tow hitch: 1) Remove the tow ring from the tool bag. 2) Remove the flap fig. 46 on the bumper levering with a screwdriver in the point show ...