Check the pressure of each tyre, including the spare, every two weeks and before long journeys.
The pressure must be checked when the tyre is rested and cold.
It is normal for the pressure to rise when you are driving. If you have to check or restore the pressure when the tyres are warm, remember that the pressure value must be 0.3 bar above the specified value.
See "Wheels" in "Technical specifications" for the correct tyre inflation pressure.

Tyre pressure must be correct to ensure good road holding.
Incorrect pressure causes abnormal tyre wear fig. 22:
A - Correct pressure: tyre wears evenly
B - Under inflated tyre: shoulder tread wear
C - Over inflated tyre: centre tread wear.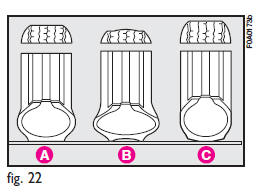 If the pressure is too low the tyre overheats and this can cause it serious damage.
Tyres must be replaced when the tread wears down to 1.6 mm. In any case, comply with the laws in the country where the vehicle is being driven.
See also:
Failure Indications
A malfunction of the Rear Park Assist sensors or system is indicated, during REVERSE gear engagement, by the instrument panel warning icon. The warning icon is illuminated and a message is displa ...
Inside Day/Night Mirror
The mirror can be adjusted up, down, left, and right for various drivers. The mirror should be adjusted to center on the view through the rear window. Headlight glare from vehicles behind you can b ...
Headlights
ADJUSTING THE HEADLIGHT BEAM The correct positioning of the headlight beams is very important for the comfort and safety, not only of the person driving the vehicle but also all other road users. ...