Check the pressure of each tyre, including the spare, every two weeks and before long journeys.
The pressure must be checked when the tyre is rested and cold.
It is normal for the pressure to rise when you are driving. If you have to check or restore the pressure when the tyres are warm, remember that the pressure value must be 0.3 bar above the specified value.
See "Wheels" in "Technical specifications" for the correct tyre inflation pressure.

Tyre pressure must be correct to ensure good road holding.
Incorrect pressure causes abnormal tyre wear fig. 22:
A - Correct pressure: tyre wears evenly
B - Under inflated tyre: shoulder tread wear
C - Over inflated tyre: centre tread wear.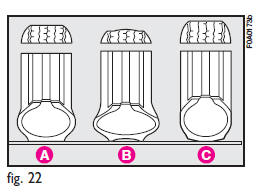 If the pressure is too low the tyre overheats and this can cause it serious damage.
Tyres must be replaced when the tread wears down to 1.6 mm. In any case, comply with the laws in the country where the vehicle is being driven.
See also:
Rear window shelf removal
Proceed as follows: ❒ release the upper ends (A) of the two tie-rods by removing the eyelets; ❒ release the shelf eyelets (B) from their recesses (C); ❒ move the shelf to ...
Exhaust Gas
WARNING! Exhaust gases can injure or kill. They contain carbon monoxide (CO), which is colorless and odorless. Breathing it can make you unconscious and can eventually poison you. To avoid breath ...
Possible presence of ice on the road
Warning message will appear and temperature indication will flash on the display when the outside temperature reaches or falls below 3°C to warn the driver of the possible presence of ice on the ...