Check the pressure of each tyre, including the spare, every two weeks and before long journeys.
The pressure must be checked when the tyre is rested and cold.
It is normal for the pressure to rise when you are driving. If you have to check or restore the pressure when the tyres are warm, remember that the pressure value must be 0.3 bar above the specified value.
See "Wheels" in "Technical specifications" for the correct tyre inflation pressure.

Tyre pressure must be correct to ensure good road holding.
Incorrect pressure causes abnormal tyre wear fig. 22:
A - Correct pressure: tyre wears evenly
B - Under inflated tyre: shoulder tread wear
C - Over inflated tyre: centre tread wear.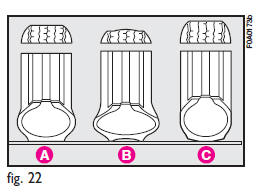 If the pressure is too low the tyre overheats and this can cause it serious damage.
Tyres must be replaced when the tread wears down to 1.6 mm. In any case, comply with the laws in the country where the vehicle is being driven.
See also:
In Canada
If you believe that your vehicle has a safety defect, you should contact the Customer Service Department immediately. Canadian customers who wish to report a safety defect to the Canadian governmen ...
Auto-Down — If Equipped
The driver's door window switch may have an Auto- Down feature. Press the window switch for approximately one second, release, and the window will go Power Window Switches 2 THINGS TO KNOW BEFORE ...
Electronic Stability Control (ESC)
This system enhances directional control and stability of the vehicle under various driving conditions. ESC corrects for oversteering or understeering of the vehicle by applying the brake of the a ...