The pollen filter is located under the dashboard near the central dashboard unit on passenger side.
If the vehicle is often used in dusty or extremely polluted environments, you should change the filter element more frequently than shown in the service schedule. It should be changed especially if the amount of air introduced into the passenger compartment is introduced.
REPLACING THE FILTER fig. 16
Loosen the screws A, remove the cover and remove the filtering element to be replaced B.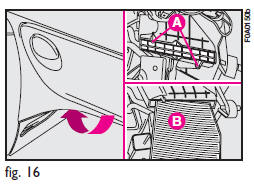 See also:
Number plate light
To change the bulb, proceed as follows: ❒ release the tab (A) and remove the cluster; ❒ turn the bulb holder (B) anticlockwise and remove the bulb (C). ...
Front direction indicators
To change the bulb, proceed as follows: 1) Turn the bulb holder A-fig. 18 and remove it. 2) Remove bulb by pushing it slightly and turning it anticlockwise (bayonet coupling). ...
Jump-Starting Procedure
If your vehicle has a discharged battery, it can be jumpstarted using a set of jumper cables and a battery in another vehicle or by using a portable battery booster pack. Jump-starting can be dang ...