Several types of bulbs are installed in the vehicle fig. 17:
A Glass bulbs Clipped into position.
To remove them, pull.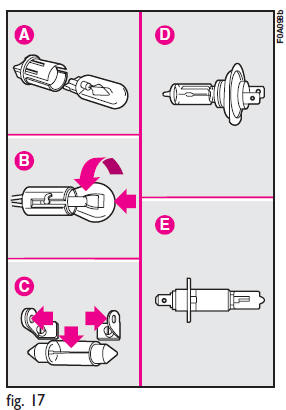 B Bayonet connection bulbs Remove from the bulb holder by pressing the bulb and turning it anticlockwise.
C Cylindrical bulbs Remove by pulling away from terminals.
D-E Halogen bulbs To remove the bulb, release the clip holding the bulb in place.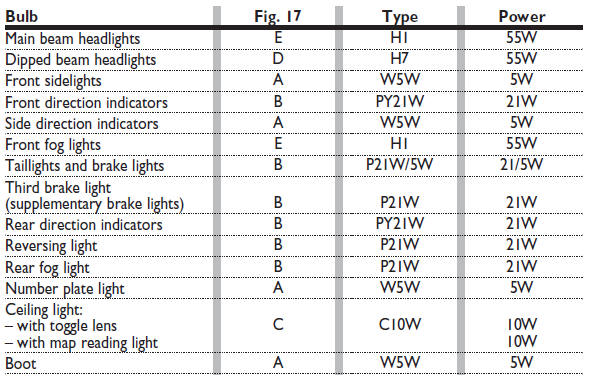 See also:
Tailgate
Opening/closing the tailgate To open the tailgate from the outside, turn the ignition key in lock fig. 118 and pull handle A in the direction of the arrow. The opening of the boot is made easier b ...
ABS
The vehicle can be fitted with an ABS braking system, which prevents the wheels from locking when braking, makes the most of road grip and gives the best control when emergency braking under diffi ...
Vehicle Identification Number
The Vehicle Identification Number (VIN) is found on the left front corner of the instrument panel, visible through the windshield. This number also appears engraved on the right front door sill un ...