Switch off the engine, pull up the handbrake and engage a gear (1st gear or reverse, according to whether the vehicle is facing up or downhill) and leave the wheels turned. If the vehicle is left on a steep slope, wedges or a rock should be used to lock the wheels.
Do not leave the ignition key at MAR to prevent draining the battery.
Always remove the key when you leave the vehicle.

Never leave children unsupervised in the vehicle.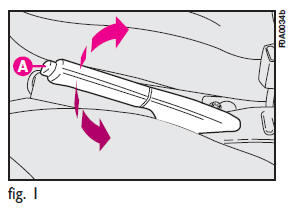 HANDBRAKE
The handbrake lever is located between the two front seats.
Pull the handbrake lever upwards until the vehicle cannot be moved. Four or five clicks are generally enough when the vehicle is on level ground while nine or ten may be required if the vehicle is on a steep slope or laden.
IMPORTANT
If this is not the case, take the vehicle to a Fiat Dealership to have the handbrake adjusted.
Instrument panel warning light

will come on when the handbrake lever is pulled up and the ignition key is at MAR.
To release the handbrake:
1) Slightly lift the handbrake and press release button A-fig.1.
2) Keep the button pressed in and lower the lever. Warning light

will go out.
3) Press the brake pedal when carrying out this operation to prevent the vehicle moving accidentally.
See also:
FUEL LEVEL GAUGE
The needle indicates the amount of fuel left in the tank.The reserve warning light (A) turns on (on certain versions together with the message shown on the reconfigurable multifunction display) ...
CO2 emissions
The CO2, emission levels at the exhaust given in the following table refer to combined consumption. CO2 emissions according to Directive 1999/100/EC (g/km) Petrol engines Diesel engines &nbs ...
Radio transmitters and cellular telephones
Radio transceiver equipment (e.g.: etacs mobile phones, HAM radio systems and the like) shall not be used inside the vehicle unless a separate aerial is mounted on the roof. IMPORTANT The use of ...