Front seats
According to the version, the head restraints can be:
– fixed fig. 61;
– adjustable in height fig. 61a.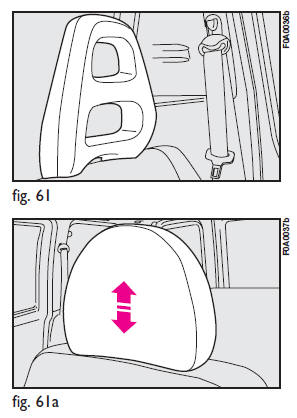 To adjust, move the head restraint upwards or downwards until it clicks.
Make sure it is properly locked in place.
Fixed head restraints cannot be removed.
Rear seats, 5-seat versions
The height of the rear head (where provided) restraints can be adjusted fig. 62.
To remove the rear head restraints, remove the rear window shelf (see "Boot" in this chapter), press buttons A-fig. 62 by the side of the stands and pull the head restraint upwards.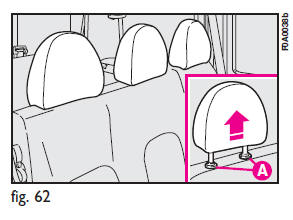 Remember that the head restraints should be adjusted to support the back of your head and not your neck. Only if they are in this position will they be able to provide effective protection.
Rear seats, 7-seat versions
Head restraints for rear seats are mobile fig. 62a. To use head restraints, raise them from non-use position (1) to use position (2). To set them back to "non-use position" (1), press the outer button A-fig. 62b and push down the head restraint. Rear head restraints can be removed; to remove them: press buttons A and B and then raise them to complete removal.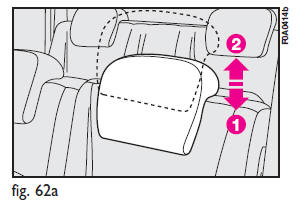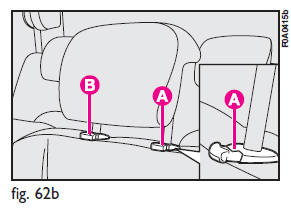 Only make adjustments when the vehicle is stationary.
The particular head restraint shape voluntarily interferes with the passenger's back leaning on the rear seat in order to force him/her to lift the head restraint and use it correctly.
IMPORTANT
Rear passengers shall always set head restraints to position (2) when traveling.
See also:
Front fog lights
Contact Fiat Dealership to have front fog lights A-fig. 22 replaced. ...
Access to menu screen
After the "Initial check", it is possible to access the menu screen pressing the button . To surf the menu press buttons + or –. IMPORTANT If after entering the menu no setting/adjustment is perfo ...
Air bag failure
(red) (where provided) Turning the ignition key to MAR the warning light turns on, but it should go off after few seconds. The warning light stays on glowing steadily if there is a failure in th ...