Only make adjustments when the vehicle is stationary.
Moving the seat backwards or forwards
Lift the lever A-fig. 50 and push the seat forwards or backwards. You are in the correct position for driving when your hands are resting on the steering wheel rim and your arms are slightly bent.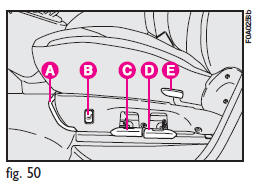 Once you have released the lever, check that the seat is firmly locked in the runners by trying to move it back and forth. Failure to lock the seat in place could result in the seat moving suddenly and dangerously.
Adjusting the reclining seat back
Lift lever E-fig. 50.
Driver's seat with armrest and adjustable lumbar support fig. 51
The armrest can be lifted or lowered F.
The lumbar support can be adjusted to better support you back. Turn knob G to adjust.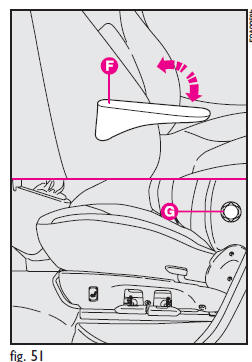 Electrically heated driver's seat fig. 50
Press button B to switch the seat heating on and off.
The LED on the button will light up when the function is on.
Height adjustment
Move lever C-fig. 50 upwards to raise the front seat section and move lever D upwards to raise the rear seat section. Move the levers downwards to lower the seat.
IMPORTANT
The seat shall not be occupied when raising, whereas you must be seated when lowering it.

Only make adjustments when the vehicle is stationary.
See also:
Radio transmitters and cellular telephones
Radio transceiver equipment (e.g.: etacs mobile phones, HAM radio systems and the like) shall not be used inside the vehicle unless a separate aerial is mounted on the roof. IMPORTANT The use of ...
Magnetic card/ticket slots
The slots for holding magnetic cards and tickets (phone card, toll slips, etc.) can be found on the central tunnel unit. WARNING Do not travel with the glove compartment open: risk of passenger ...
How to warm up the engine after it has just started (petrol and diesel versions)
Proceed as follows: ❒ Drive off slowly, letting the engine turn at medium revs. Do not accelerate abruptly; ❒ Do not drive at full performance for the initial kilometres. Wait until ...