Only make adjustments when the vehicle is stationary.
Moving the seat backwards or forwards
Lift the lever A-fig. 50 and push the seat forwards or backwards. You are in the correct position for driving when your hands are resting on the steering wheel rim and your arms are slightly bent.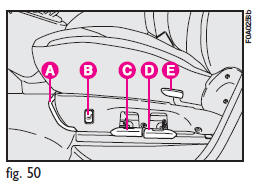 Once you have released the lever, check that the seat is firmly locked in the runners by trying to move it back and forth. Failure to lock the seat in place could result in the seat moving suddenly and dangerously.
Adjusting the reclining seat back
Lift lever E-fig. 50.
Driver's seat with armrest and adjustable lumbar support fig. 51
The armrest can be lifted or lowered F.
The lumbar support can be adjusted to better support you back. Turn knob G to adjust.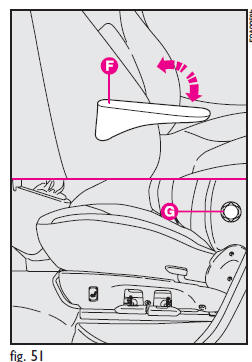 Electrically heated driver's seat fig. 50
Press button B to switch the seat heating on and off.
The LED on the button will light up when the function is on.
Height adjustment
Move lever C-fig. 50 upwards to raise the front seat section and move lever D upwards to raise the rear seat section. Move the levers downwards to lower the seat.
IMPORTANT
The seat shall not be occupied when raising, whereas you must be seated when lowering it.

Only make adjustments when the vehicle is stationary.
See also:
Refuelling
To guarantee full tank filling, carry out two refueling operations after the first click of the fuel delivery gun. Avoid further topping up operations that could cause damages to the fuel system. ...
Scheduled servicing
Correct maintenance is essential for ensuring long car life under the best conditions. This is why Fiat has programmed a series of checks and maintenance operations every 20,000 km. It is however i ...
Speedometer
The speedometer A-fig. 31 - 32 shows the vehicle speed. ...