The speedometer A-fig. 31 - 32 shows the vehicle speed.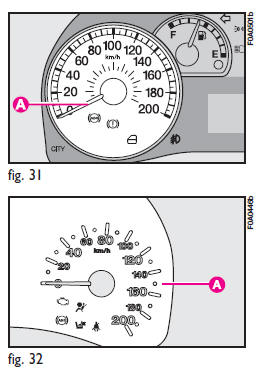 See also:
Driving Through Water
Driving through water more than a few inches/ centimeters deep will require extra caution to ensure safety and prevent damage to your vehicle. ...
Chassis
...
1. Glow Plug Light — If Equipped
The Glow Plug light will flash during engine oil viscosity sensor measurement in cold weather. During this measurement (up to 10 seconds), the starter will be disabled. If the measured oil visc ...