1.4 8V - 1.3 Multijet - 1.9 М versions
A - Speedometer (speed indicator)
B - Fuel level gauge with reserve warning light
C- Engine coolant temperature gauge and max. temperature warning light
D - Rev counter
E - Multifunction display
Warning lights

are only provided on Diesel versions.
Natural Power versions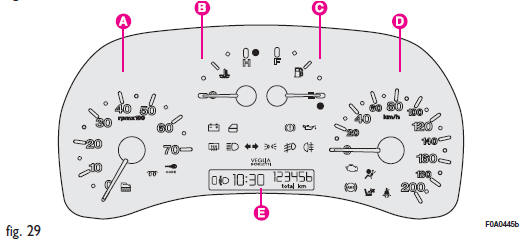 1.4 8V - 1.3 Multijet - 1.9 Multijet versions
fig. 30 - With outside temperature sensor and/or Diesel
Particulate Filter for Multijet versions.
A - Speedometer
B - Fuel level gauge with reserve warning light.
C - Engine coolant temperature gauge and excessive temperature warning light.
D - Rev counter.
E - Digital display.

Warning lights

are only provided on Diesel versions.
See also:
Warranty Information
See the Warranty Information Booklet, located on the DVD, for the terms and provisions of FIAT Group Automobiles warranties applicable to this vehicle and market. ...
General instructions
Wheel changing and correct use of the jack and spare wheel call for some precautions as listed below. Do not use the jack for loads over the value indicated on the plate. The jack should only be ...
Capacities
(▲) For particularly hard climate conditions, we recommend use of a 60% PARAFLU UP and 40% demineralized water mixture. (❒) For particularly cold temperatures use SELENIA MULTIPOWE ...