1.4 8V - 1.3 Multijet - 1.9 М versions
A - Speedometer (speed indicator)
B - Fuel level gauge with reserve warning light
C- Engine coolant temperature gauge and max. temperature warning light
D - Rev counter
E - Multifunction display
Warning lights

are only provided on Diesel versions.
Natural Power versions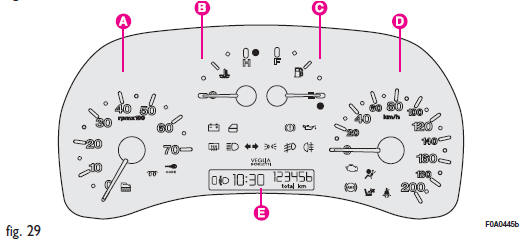 1.4 8V - 1.3 Multijet - 1.9 Multijet versions
fig. 30 - With outside temperature sensor and/or Diesel
Particulate Filter for Multijet versions.
A - Speedometer
B - Fuel level gauge with reserve warning light.
C - Engine coolant temperature gauge and excessive temperature warning light.
D - Rev counter.
E - Digital display.

Warning lights

are only provided on Diesel versions.
See also:
Automatic Transmission – If Equipped
The Sport mode increases steering feedback to the driver with slight increase in effort and changes the transmission shift schedules for more aggressive shifting. This driving mode is useful while ...
Operation with trailer
The system is preset for deactivating automatically when the trailer electric cable plug is fitted into the car tow hook socket. Sensors are reactivated when removing the trailer cable plug. For p ...
Direction indicators
Push the lever to stable position: ❒ up (position 1): engage the right-hand direction indicator; ❒ down (position 2): engage the left-hand direction indicator. Warning light or w ...