The presence and the position of the instruments and warning lights may vary according to the versions.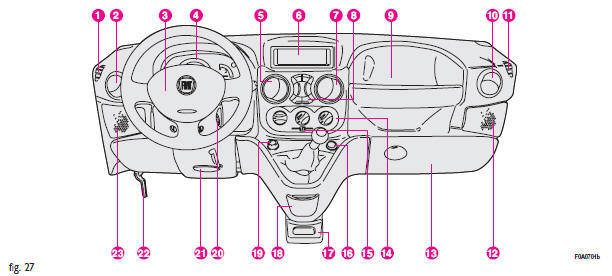 1. Fixed side vent
2. Adjustable side vent
3. Horn
4. Instrument panel
5. Adjustable central vent
6. Glove compartment
7. Adjustable central vent
8. Central controls
9. Glove compartment
10. Adjustable side vent
11. Fixed side vent
12. Front right-hand speaker housing
13. Glove compartment
14. Heater/ventilation/climate control system controls
15. Recirculation slider
16. Additional power socket
17. Glove compartment
18. Ashtray
19. Cigar lighter
20. Ignition switch
21. Steering wheel adjustment lever
22. Bonnet opening lever
23. Front left-hand speaker housing.
See also:
Automatic Transmission – If Equipped
The automatic transmission and differential assembly are contained within a single housing. The fluid level in the automatic transmission should be checked whenever the vehicle is serviced. Opera ...
Glow plug warming
(Multijet versions - amber) GLOW PLUG WARMING FAILURE (Multijet versions - amber) Spark plug pre-heating Turning the ignition key to MAR, the warning light turns on and it will turn off when gl ...
Dimensions
Dimensions are expressed in mm. Height is intended on an unladen vehicle Unladen boot volume (Fiat Doblò Cargo versions): 3,2 m3. Unladen boot volume (Fiat Doblò Passengers Transpo ...