The presence and the position of the instruments and warning lights may vary according to the versions.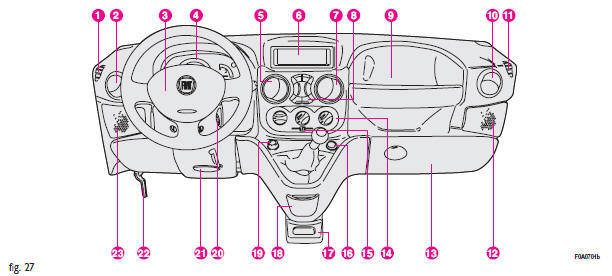 1. Fixed side vent
2. Adjustable side vent
3. Horn
4. Instrument panel
5. Adjustable central vent
6. Glove compartment
7. Adjustable central vent
8. Central controls
9. Glove compartment
10. Adjustable side vent
11. Fixed side vent
12. Front right-hand speaker housing
13. Glove compartment
14. Heater/ventilation/climate control system controls
15. Recirculation slider
16. Additional power socket
17. Glove compartment
18. Ashtray
19. Cigar lighter
20. Ignition switch
21. Steering wheel adjustment lever
22. Bonnet opening lever
23. Front left-hand speaker housing.
See also:
Left-hand stalk
The left-hand stalk operates most of the external lights. The external lights can only be switched on when the ignition key is at MAR. The instrument panel and the heating/ventilation (or climate c ...
Enhanced Accident Response System
In the event of an impact causing airbag deployment, if the communication network remains intact, and the power remains intact, depending on the nature of the event the ORC will determine whether ...
Starting procedure for petrol versions
1) Ensure that the handbrake is up. 2) Put the gear lever into neutral. 3) Press the clutch pedal fully down, without pressing the accelerator. 4) Turn the ignition key to AVV and let it go the mom ...