The presence and the position of the instruments and warning lights may vary according to the versions.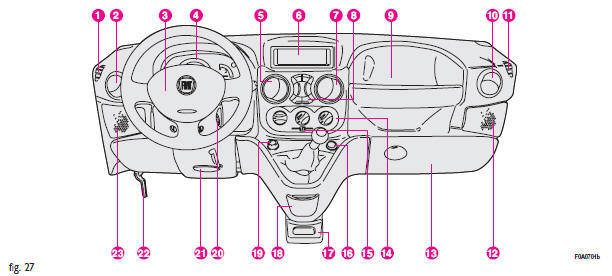 1. Fixed side vent
2. Adjustable side vent
3. Horn
4. Instrument panel
5. Adjustable central vent
6. Glove compartment
7. Adjustable central vent
8. Central controls
9. Glove compartment
10. Adjustable side vent
11. Fixed side vent
12. Front right-hand speaker housing
13. Glove compartment
14. Heater/ventilation/climate control system controls
15. Recirculation slider
16. Additional power socket
17. Glove compartment
18. Ashtray
19. Cigar lighter
20. Ignition switch
21. Steering wheel adjustment lever
22. Bonnet opening lever
23. Front left-hand speaker housing.
See also:
Front fog lights
The warning light on the dial turns on when the front fog lights are turned on. ...
Important notes
As far as possible avoid sharp braking and screech starts. Be careful not to hit the kerb, potholes or other obstacles hard. Driving for long stretches over bumpy roads can damage the tyres. Perio ...
Dipped beams
To change the halogen bulb, proceed as follows: 1) Remove the protection cover Bfig. 18 turning it counterclockwise; 2) Release clip A-fig. 20, remove connector B and remove the bulb C. ...