The presence and the position of the instruments and warning lights may vary according to the versions.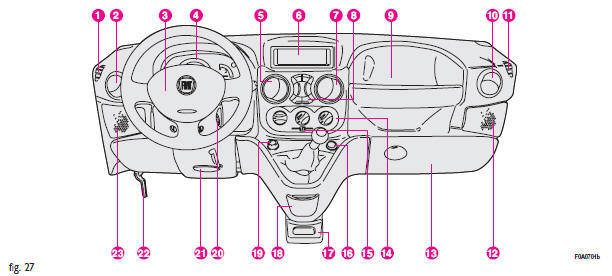 1. Fixed side vent
2. Adjustable side vent
3. Horn
4. Instrument panel
5. Adjustable central vent
6. Glove compartment
7. Adjustable central vent
8. Central controls
9. Glove compartment
10. Adjustable side vent
11. Fixed side vent
12. Front right-hand speaker housing
13. Glove compartment
14. Heater/ventilation/climate control system controls
15. Recirculation slider
16. Additional power socket
17. Glove compartment
18. Ashtray
19. Cigar lighter
20. Ignition switch
21. Steering wheel adjustment lever
22. Bonnet opening lever
23. Front left-hand speaker housing.
See also:
Electric windows
According to versions, power window controls can be set on the dashboard (in central position) fig. 109, or on driver and passenger door panels fig. 109a. They only work with ignition key at MAR. ...
Sidelights and low beams
The warning light on the dial turns on when sidelights, parking lights or low beams are turned on. ...
"Dualdrive" electric power steering engagement
When engaging the "Dualdrive electric power steering the instrument panel will show the message CITY. This message will go off the display when disengaging the electric power steering. ...