The presence and the position of the instruments and warning lights may vary according to the versions.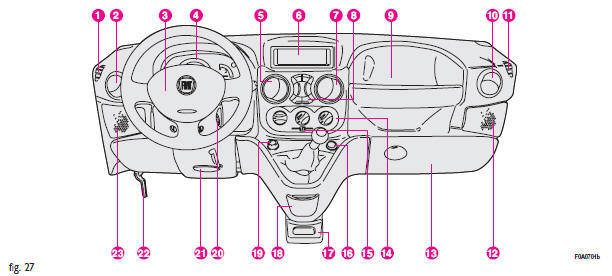 1. Fixed side vent
2. Adjustable side vent
3. Horn
4. Instrument panel
5. Adjustable central vent
6. Glove compartment
7. Adjustable central vent
8. Central controls
9. Glove compartment
10. Adjustable side vent
11. Fixed side vent
12. Front right-hand speaker housing
13. Glove compartment
14. Heater/ventilation/climate control system controls
15. Recirculation slider
16. Additional power socket
17. Glove compartment
18. Ashtray
19. Cigar lighter
20. Ignition switch
21. Steering wheel adjustment lever
22. Bonnet opening lever
23. Front left-hand speaker housing.
See also:
Instrument Panel Bezels
CAUTION! When installing hanging air fresheners in your vehicle, read the installation instructions carefully. Some air fresheners will damage the finish of painted or decorated parts if allowed ...
Adjusting the headlight beam
Proper adjustment of the headlight beams is of vital importance for your safety and comfort and also for the other road users. It is also a specific regulation of the road traffic code. To ensur ...
Direction indicators
Front To change the bulb, remove the protective cover (3), turn connector (A) clockwise and remove the bulb (B). Side To change the bulb, proceed as follows: ❒ Press the lens (A) in t ...