Children from 9 to 18 kg are to be seated facing forward in child seats with front cushion fig. 15. The vehicle seat belt secures both seat and child.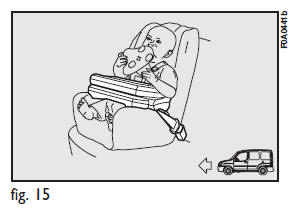 The figure is only an example.
Attain to the instructions for fastening which must be enclosed with the specific child restraint system you are using.

Seats exist which are suitable for covering weight groups 0 and 1 with a rear connection to the vehicle belts and their own belts to restrain the child. Due to their size, they can be dangerous if installed incorrectly fastened to the vehicle belts with a cushion.
Carefully follow the instructions for installation provided with the seat.
See also:
"Smart washing" function
Pulling the stalk towards the steering wheel (unstable position) operates the windscreen washer; indeed, the latter comes into action automatically if the stalk is pulled for more than half a se ...
(C) Injecting TIREFIT Sealant Into The DeflatedTire
• Always start the engine before turning ON the TIREFIT kit. NOTE: Manual transmission vehicles must have the parking brake engaged and the shift lever in NEUTRAL. • After pressing the Power Butt ...
Electronic control units
When the vehicle is being used normally, special measures are not necessary. The following instructions must be followed very carefully, however, if you work on the electrical system or in cases wh ...