Children from 9 to 18 kg are to be seated facing forward in child seats with front cushion fig. 15. The vehicle seat belt secures both seat and child.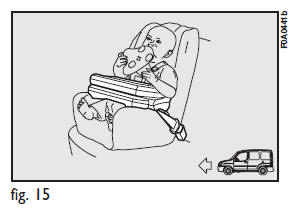 The figure is only an example.
Attain to the instructions for fastening which must be enclosed with the specific child restraint system you are using.

Seats exist which are suitable for covering weight groups 0 and 1 with a rear connection to the vehicle belts and their own belts to restrain the child. Due to their size, they can be dangerous if installed incorrectly fastened to the vehicle belts with a cushion.
Carefully follow the instructions for installation provided with the seat.
See also:
Sunroof
It is controlled electrically and it will only work when the ignition key is at MAR. Sunroof is controlled by a switch. When you release it the roof locks in the position it is at that moment. ...
CD MP3 Player
Introduction This chapter describes the operation of the CD MP3 player. NOTE: Layer-3 audio decoding technology is licensed from Fraunhofer IIS and Thomson multimedia. MP3 Mode In addition to p ...
TIREFIT Usage Precautions
• Replace the TIREFIT Sealant Bottle (1) and Sealant Hose (6) prior to the expiration date (printed on the bottle label) to assure optimum operation of the system. Refer to "Sealing a Tire with TIR ...