Children from 9 to 18 kg are to be seated facing forward in child seats with front cushion fig. 15. The vehicle seat belt secures both seat and child.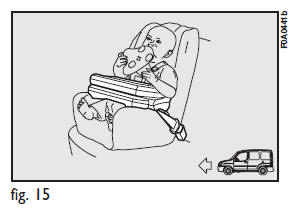 The figure is only an example.
Attain to the instructions for fastening which must be enclosed with the specific child restraint system you are using.

Seats exist which are suitable for covering weight groups 0 and 1 with a rear connection to the vehicle belts and their own belts to restrain the child. Due to their size, they can be dangerous if installed incorrectly fastened to the vehicle belts with a cushion.
Carefully follow the instructions for installation provided with the seat.
See also:
Gasoline/Oxygenate Blends
Some fuel suppliers blend unleaded gasoline with oxygenates such as 10% Ethanol, MTBE, and ETBE. Oxygenates are required in some areas of the country during the winter months to reduce carbon mono ...
Right-hand direction indicator
The warning light on the dial turns on when the direction indicator control lever is moved upwards or, together with the left indicator, when the hazard warning light button is pressed. ...
Headlights
ADJUSTING THE HEADLIGHT BEAM The correct positioning of the headlight beams is very important for the comfort and safety, not only of the person driving the vehicle but also all other road users. ...