Children from 9 to 18 kg are to be seated facing forward in child seats with front cushion fig. 15. The vehicle seat belt secures both seat and child.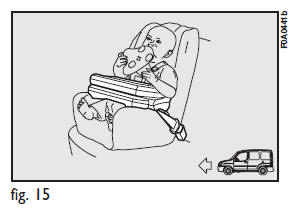 The figure is only an example.
Attain to the instructions for fastening which must be enclosed with the specific child restraint system you are using.

Seats exist which are suitable for covering weight groups 0 and 1 with a rear connection to the vehicle belts and their own belts to restrain the child. Due to their size, they can be dangerous if installed incorrectly fastened to the vehicle belts with a cushion.
Carefully follow the instructions for installation provided with the seat.
See also:
Rear double doors
The double rear doors are fitted with a catch which stops the opening at an angle of approximately 90°. The catch system is designed to ensure the best comfort in use. An accidental knock or gus ...
Manual Transmission – If Equipped
Apply the parking brake, place the shift lever in NEUTRAL, and press the clutch pedal before starting the vehicle. This vehicle is equipped with a clutch interlocking ignition system. It will not ...
Air Conditioning (A/C)
The Air Conditioning (A/C) button allows the operator to manually activate or deactivate the air conditioning system. When in A/C mode with the ATC set to a cool temperature, dehumidified air flow ...