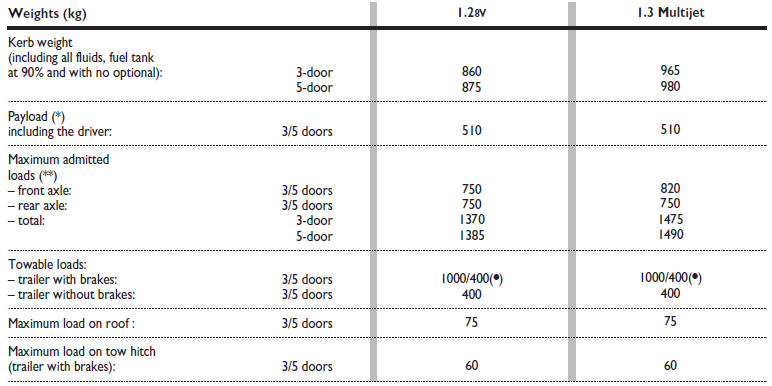 (*) If special equipment is fitted (sunroof, tow hitch, etc.) the unladen car weight increases, thus reducing the specified payload.
(**) Loads not to be exceeded. The driver is responsible for arranging the loads in the boot an/or on the roof so that they comply with these limits.
(●) For specific markets.
See also:
Loose Fuel Filler Cap Message
After fuel has been added, the vehicle diagnostic system can determine if the fuel filler cap is possibly loose, improperly installed, or damaged. If the system detects a malfunction, the УgASCAPФ ...
Checking the levels
1. Engine oil 2. Battery 3. Brake fluid 4. Windscreen washer fluid 5. Engine coolant 6. Power steering fluid. Do not smoke while working in the engine compartment: the presence of flammable ...
Adjusting the headlight beam
Proper adjustment of the headlight beams is of vital importance for your safety and comfort and also for the other road users. It is also a specific regulation of the road traffic code. To ensur ...