Periodically clean the rubber part using special products; TUTELA PROFESSIONAL SC 35 is recommended.
If the rubber blades are bent or worn they should be replaced. In any case they should be changed once a year.
A few simple notions can reduce the possibility of damage to the blades:
❒ if the temperature fall below zero, make sure that ice has not frozen the rubber against glass. If necessary, thaw using an antifreeze product;
❒ remove any snow from the glass: in addition to protecting the blades, this prevents effort on the motor and overheating;
❒ do not operate the windscreen and rear window wipers on dry glass.
WARNING
Driving with worn wiper blades is a serious hazard, because visibility is reduced in bad weather.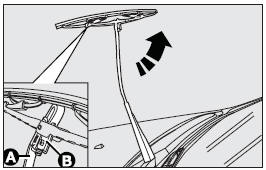 Changing the windscreen wiper blades
Proceed as follows:
❒ raise the windscreen wiper arm (A) and position the blade so that it forms an angle of 90° with the arm;
❒ press tab (B) of the coupling spring and remove the blade to be replaced from the arm (A);
❒ fit the new blade by inserting the tab into the special slot in the arm. Make sure it is properly locked into place.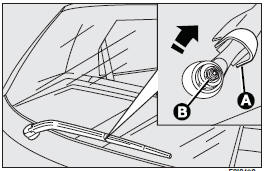 Changing the rear window blade
Proceed as follows:
❒ raise the cover(A) and remove the arm from the car, slackening the nut (B) that fastens it to the pivot pin;
❒ fit the new arm, positioning it correctly, and fully tighten the nut;
❒ lower the cover.
SPRAY NOZZLES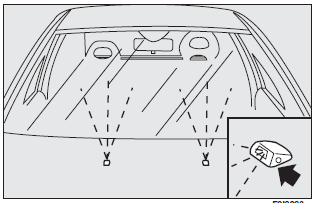 Windscreen wiper
If the jet of fluid is inadequate, firstly check that there is fluid in the reservoir: see "Checking fluid levels" in this section).
Then check that the nozzle holes are not clogged, if necessary use a needle.
The windscreen jets are directed by adjusting the angle of the nozzles: turn the nozzle cylinder by inserting a screwdriver in (A).
Fluid jets shall be directed at about 1/3 height from the window upper edge.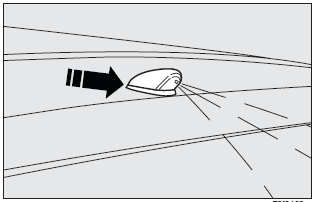 Rear window wiper
Rear window washer jets can be adjusted in the same way. The nozzle holder is on the rear window.
See also:
Rain sensor
The rain sensor is behind the driving mirror in contact with the windscreen and has the purpose of automatically adjust, during the intermittent operation, the frequency of the windscreen wiper ...
Left-hand direction indicator
The warning light on the dial turns on when the direction indicator control lever is moved downwards or, together with the right indicator, when the hazard warning light button is pressed. ...
Refuelling
To ensure full tank refuelling, carry out two top-up operations once the delivery gun has turned off twice. Avoid further top-up operations which could cause faults in the fuel system. The car mu ...