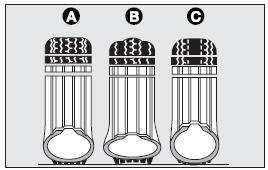 Check the pressure of each tyre, including the spare, every two weeks and before long journeys. The pressure should be checked with the tyre rested and cold.
For the correct tyre inflation pressure, see "Wheels" in "Technical specifications" section.
Incorrect pressure causes abnormal tyre wear:
(A): normal pressure: tread evenly worn.
(B): low pressure: tread particularly worn at the edges.
(C): high pressure: tread particularly worn in the centre.
Tyres must be replaced when the tread wears down to 1,6 mm. In any case, comply with the laws in the country where the car is being driven.
IMPORTANT NOTES
❒ As far as possible, avoid sharp braking and screech starts, etc. Be careful not to hit the kerb, potholes or other obstacles hard. Driving for long stretches over bumpy roads can damage the tyres;
❒ Periodically check that the tyres have no cuts in the side wall, abnormal swelling or irregular tyre wear. If any of these occur, have the car seen to at a Fiat Dealership;
❒ Avoid overloading the vehicle when travelling: this may cause serious damage to the wheels and tyres;
❒ If a tyre is punctured, stop immediately and change it to avoid damage to the tyre, the rim, suspensions and steering system;
❒ Tyres age even if they are not used much. Cracks in the tread rubber are a sign of ageing. In any case, if the tyres have been on the car for over 6 years, they should be checked by specialised personnel, to see if they can still be used. Also remember to check the spare wheel;
❒ In the case of replacement, always fit new tyres, avoiding those of dubious origin;
❒ If a tyre is changed, also change the inflation valve;
❒ To allow even wear between the front and rear tyres, it is advisable to change them over every 10- 15 thousand kilometres, keeping them on the same side of the car so as to not reverse the direction of rotation.
WARNING
Remember that road holding depends also on the correct tyre inflating pressure.
WARNING
If the pressure is too low the tyre overheats and this can cause it serious damage.
WARNING
Do not cross switch the tyres, moving them from the right of the car to the left and vice versa.
WARNING
Never submit alloy rims to repainting treatments requiring to use temperatures exceeding 150°C since the mechanical properties of the wheels could be impaired.
See also:
Display info
❒ Headlight aiming position display (only with dipped beams on) (A) ❒ Clock (B) (always displayed, also with key removed and front doors closed). ❒ Total (C) and partial ( ...
Front light units
The front light units contain: sidelights, dipped beam, main beam and direction indicator bulbs. The bulbs are arranged inside the light unit as follows: (1): sidelights/main beam headlights; ( ...
Personal Settings (Customer-ProgrammableFeatures)
Dimmer The EVIC display is provided with a light sensor capable of detecting environmental light conditions and adjusting the brightness of the instruments accordingly. NOTE: The brightness of th ...