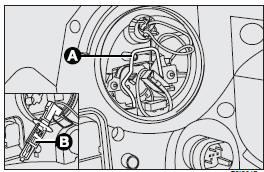 To change the bulb, remove the protective cover (1), release the catch (A) and remove the bulb (B).
See also:
Engine coolant temperature gauge
This shows the temperature of the engine coolant fluid and begins working when the fluid temperature exceeds approx. 50°C. Under normal conditions, the needle should hover around the middle of the ...
Recirculation
Move slider (B) to . This function is particularly useful when the outside air is heavily polluted (in a traffic jam, tunnel, etc.). However, it is better not to use it for long periods, especial ...
Engine Air Cleaner Filter
Refer to the "Maintenance Schedule" for the proper maintenance intervals. WARNING! The air induction system (air cleaner, hoses, etc) can provide a measure of protection in the case of engine bac ...