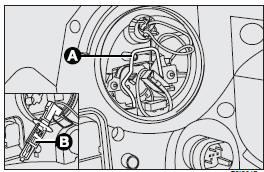 To change the bulb, remove the protective cover (1), release the catch (A) and remove the bulb (B).
See also:
Initial check
Turning the ignition key to MAR, the multifunction display shows the message "Check active": the diagnostic phase of all the electronic systems on the car has started. This lasts few seconds: if n ...
If an exterior light burns out
Alterations or repairs to the electric system not carried out correctly and without taking into account the system specifications may cause failures and the risk of fire. See "If a bulb burns ou ...
Vehicle Storage
If you are leaving your vehicle dormant for more than 21 days, you may want to take these steps to protect your battery. • Disconnect the negative cable from the battery. • Anytime you store your ...