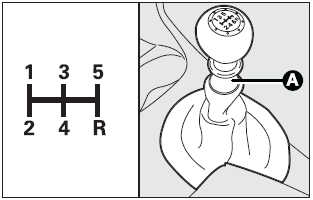 To engage the gears, press the clutch pedal fully and shift the gear lever into one of the required positions (the diagram is shown on the knob).
IMPORTANT The car can only be put into reverse gear when it has stopped moving completely. With the engine running, before engaging the reverse, wait at least 2 seconds with the clutch pedal fully down to prevent damage and grating of the gears.
To engage reverse (R) from neutral proceed as follows:
❒ for 1.28V versions, lift the sliding ring (A) under the knob and shift the lever to the right and back;
❒ for 1.3 Multijet versions, just shift the lever to the right and back.
WARNING
To change gears properly you must push the clutch pedal fully down. It is therefore essential that there is nothing under the pedals: make sure mats are lying flat and do not get in the way of the pedals.
Do not drive with your hand resting on the gear lever as the force exerted, even if slight, could lead over time to premature wear on the gearbox internal components.
See also:
Left-hand direction indicator
The warning light on the dial turns on when the direction indicator control lever is moved downwards or, together with the right indicator, when the hazard warning light button is pressed. ...
Pretensioners
To increase the efficiency of the front seat belts, the Fiat Punto is fitted with pretensioners. These devices "feel", through a sensor, that a violent crash is in progress and rewind the seat bel ...
Car inactivity
If the car is to be left inactive for longer than a month, the following precautions should be noted: ❒ park the car in covered, dry and if possible wellventilated premises; ❒ engage ...