The handbrake lever is located between the two front seats.
Pull the handbrake lever upwards until the car cannot be moved. Four or five clicks are generally enough when the car is on level ground while nine or ten may be required if the car is on a steep slope or laden.
IMPORTANT If this is not the case, contact Fiat Dealership to have the handbrake adjusted.
When the handbrake lever is pulled up and the ignition key is at MAR the panel warning light
will come on.
WARNING
Never leave children unattended in the car. Always remove the ignition key when leaving the car and take it out with you.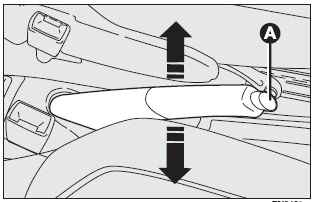 To release the handbrake:
❒ Slightly lift the handbrake and press release button (A);
❒ Keep button (A) pressed in and lower the lever. Warning light x will go out.
Press the brake pedal when carrying out this operation to prevent the car from moving accidentally.
See also:
Technology in action
In its various previous guises, the Punto has been renowned for a high level of exciting and innovative technology. It became the first car in the supermini sector to feature an in-built infotainm ...
Recirculation
Move slider (B) to . This function is particularly useful when the outside air is heavily polluted (in a traffic jam, tunnel, etc.). However, it is better not to use it for long periods, especial ...
EBD failure
(red) (amber) The turning on at the same time of warning lights with the engine running indicates an EBD system failure or that the system is unavailable; in this case heavy braking may cause ...