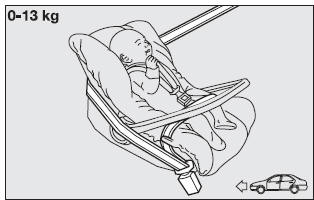 Babies up to 13 kg must be carried facing backwards on a cradle seat, which, supporting the head, does not induce stress on the neck in the event of sharp deceleration.
The cradle is restrained by the car seat belts, as shown in the figure and in turn it must restrain the child with its own belts.
See also:
EBD failure
(red) (amber) The turning on at the same time of warning lights with the engine running indicates an EBD system failure or that the system is unavailable; in this case heavy braking may cause ...
Engine coolant temperature gauge
This gauge shows the temperature of the engine coolant fluid and begins working when the fluid temperature exceeds approx. 50 ∞C. Under normal conditions, the needle should move to different positi ...
How to warm up the engine after is has just started (petrol and diesel versions)
Ц Begin to move forward slowly letting the engine turn at medium revs. Do not accelerate abruptly. Ц Do not push the engine to its limit for the first few kilometers. You are recommended to wait u ...